LERC gathers associates, assistants and friends around for its sixth anniversary celebration
Tuesday10th March 2009, LERC, NDU
On the occasion of the sixth anniversary of the foundation of the Lebanese Emigration Research Center (LERC) at NDU, LERC staff and volunteers threw a surprise celebration for LERC Director Ms. Guita Hourani, inviting around the VPRD, associates, assistants and friends for a lunch-time gathering.
Present at the event were Vice-President for Sponsored Research and Development Dr. Assaad Eid, former LERC Adjunct Research Associates Professor Edward Alam and Professor Sensenig-Dabbous, LERC Researcher Dr. Salwa Karam, and LERC Visiting Affiliate Ms. Suzanne Menhem.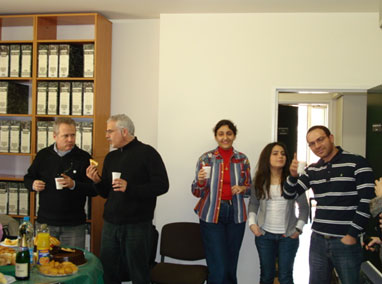 The anniversary kicks off (from L-R) Dr. E. Sensenig-Dabbous, Dr. E. Alam, Ms. B. Abdel Khalek, Ms. S. Panossian and Mr. R. Sassine (Mar 2009)
Also present were NDU's Director of University International Affairs, Professor Michel Nehme, Father John Abou-Chrouch, Director of the Center of Digitization and Preservation at NDU along with its Administrative Assistant Ms. Rita Azar, Ms. Diala el-Mast, Secretary at the Center for Applied Research and Education (CARE), and Mr. Sami Salame, Archivist.
Amongst the staff and volunteers at the occasion were LERC Project Manager and Office Coordinator, Basma Abdel Khalek, LERC Senior Research Assistant Rudy Sassine, LERC Research Assistants Sara Panossian, Joe Malkoun and Elie Geagea and LERC indexers Liliane Haddad and Elie Nabhan.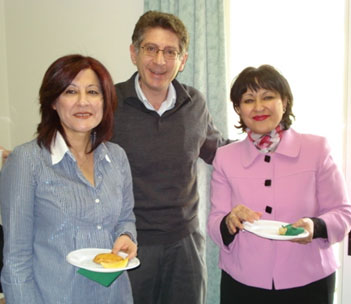 Celebrations under way (from L-R) Mrs. L. Haddad, Mr. E. Nabhan and Ms. G. Hourani (Mar 2009)
Ms. Abdel Khalek opened proceedings by welcoming all the guests and thanking them for their time. LERC Director Ms. Hourani then thanked each person present individually, mentioning what each had done or achieved with LERC over the years.
She specially thanked Professor Sensenig-Dabbous and Professor Alam while calling to mind Drs. Norman Nikro and Robert Saliba, a previous Adjunct Research Associate at LERC. Ms. Hourani thanked all the visiting researchers and interns past and present who had helped in building up LERC's excellent reputation.
Ms. Hourani announced that Mr. Sassine was preparing for a trip to the United States for a three-month fellowship at Syracuse University in New York, and that she was nominating him to attend the CARIM Summer Program in Florence Italy this summer.
Ms. Hourani also mentioned the impressive growth of the Center as it continuously attracts scholars and researchers to its premises. LERC, she said, also provides vital knowledge for students and graduates keen on gaining experience in research and project management. While reflecting on the past, she wished for LERC a bright future that would keep harnessing ideas, welcoming individuals and producing work of the highest standards.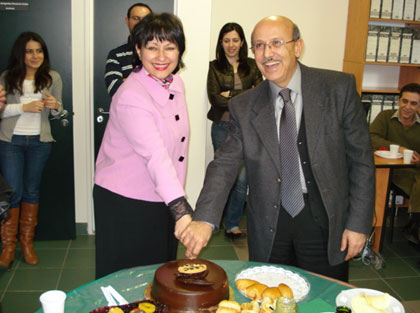 The warmth of the occasion evident all round as Ms. G. Hourani and Dr. A. Eid join hands to cut the cake (Mar 2009)
With the cake cut and photos taken, the guests relaxed over food and drinks. Dr. Assaad Eid, NDU's Vice-President for Research and Development, then delivered a short speech during which he commended LERC's "quality growth" and Ms. Hourani and her assistants for all the help and dedication they had given to the Center and all that had been achieved over the past six years.
In his closing remarks he said that he was looking forward to new projects, proposals and publications and ended by wishing LERC many more happy anniversaries.
Souvenir picture of LERC right now (Back row from L-R) Mrs.L.Haddad, Mr. E.Nabhan, Ms.S. Menhem, Mr. R. Sassine, Dr. E. Sensenig-Dabbous, Ms.B. Abdel Khalek, Mr. E. Geagea
(Front row from L-R) Mr. J. Malkoun, Ms. G. Hourani, Ms. S. Panossian, Dr. A. Eid and Dr. S. Karam (Mar 2009)