CDP is a center in the service of NDU's global mission: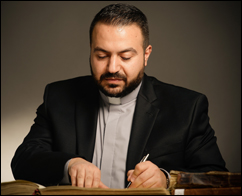 If our mission as a Catholic university is to "provide comprehensive quality education that fosters excellence in scholarship, lifelong learning, enlightened citizenship, human solidarity, moral integrity, and belief in God" (NDU mission statement), then we have no right to ignore the fact that digital technology is nowadays an elementary and indispensable tool to fulfill such an end. Since the first "intellectual" societies, codices, manuscripts, parchment or papyrus, authors, scribes and copyists were the tools of enculturation, and means of political propaganda or religious kerygma. When the first Church started to announce the Gospel beyond the frontiers of the Roman Empire, these same means were used in order to fulfill this mission of proclaiming the Gospel.
Nowadays, as a Catholic university, we are aware that we are continuing the early Church's kerygmatic mission through the service of the truth. Hence, we have to seek new tools, and to renew the tools we already have. Our modern codices are becoming digital, and we have to assume this new form of culture transmission in order to fulfill our original mission.
"Gaudium de veritate" (Joy from the Truth) is the motto NDU has chosen to express its identity and mission. And as every other Catholic university, NDU  comes from the heart of the Church: "A Catholic university shares that gaudium de veritate, so precious to St. Augustine, which is that joy of searching for, discovering and communicating truth in every field of knowledge." (See St. Augustine, Confessions, X, xxiii, 33 and  John Paull II, Ex corde ecclesiae,1).
NDU cannot accomplish this vision without being faithful to its received heritage, for through Catholic universities, " The Church is called to exercise a diaconia of culture on today's 'digital continent'." (cf.  Benedict PP. XVI,  Message for the 44th World Communications Day,  "The Priest and Pastoral Ministry in a Digital World: New Media at the Service of the Word" Sunday,16 May 2010). In this very same "service of the culture" CDP finds its "raison d'être", and can promote a better fulfillment of NDU's cultural and Catholic mission. Hence, CDP becomes NDU's historical memory and the guardian of its historical treasures,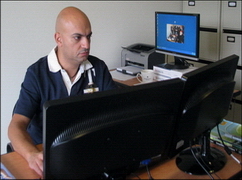 by digitizing and preserving the heritage of the past, by studying and criticizing it, by publishing it and putting it between the hands of modern scholars, professors and students.
From this same fact, we are conscious that CDP's vocation is not merely technical, it is not just a scanning or photography lab; this center is a research center inasmuch as, after digitizing and preserving a document (which is seeking the tools and elaborating the means of a research activity), it has the duty of criticizing the facts and publishing the results of the study.
Digitization and Preservation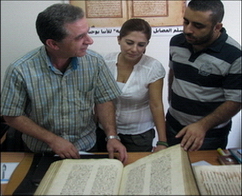 Digitization is a mean of preservation, but it is not conservation. It preserves in a digital form what a document contains. The conservation of the material document in se, and not what it contains, is a complex process that we hope to carry out one day in our center. Meanwhile, a deal should be made as soon as possible with one of the Lebanese conservation labs, in order to ensure, when necessary, an adequate treatment for our damaged manuscripts.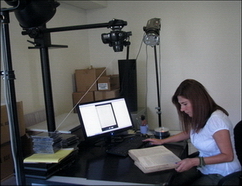 Our project begins with the digital capture of documents but it should also include when possible:
- Conservation: appropriate care and repair of original materials, as much as possible, and through cooperation with other university's preservation lab when necessary, can protect the original documents that CDP treats. The digital capture becomes a way of preservation inasmuch as a digital copy is generated;thus, an eventual restriction of physical access to the original copy would not become an obstacle to scholars and to scientific research.
- Research: Digitizing is only the first step of a long journey; our ultimate goal as a center in a Catholic university is the intellectual service of the truth through the treatment of special collections. CDP exercises its role as a research center inasmuch as:

- it elaborates the research material for scholars and for other research centers.
- it can produce articles, publications and books about the digitized material, or can publish manuscripts with critical analysis (We should have "Keywords" for each manuscript or digitized work which will be added with all its info directly into a Data Sheet.)
- it can organize expositions, seminars, round tables, workshops, conferences and maybe an annual convention.

- Access: This means good use of the digitized material, making it accessible to the audience at which it is aimed, as in an Electronic Catalogue (ex: OLIVER)
The CDP work team:
* Project manager: he should be the CDP director, or another person chosen to assume the responsibility of undertaking a selected project.

The manager's task is:

          - to prepare the time schedule,

          - to organize the daily working plan,

          - to ensure that the project does not exceed the proposed time.

- to assure the quality control of the digitization process, the archiving, indexing and cataloguing, and restoration if necessary.

* Conservator, in the case where the manuscript or the document to be digitized is damaged or it risks deterioration. Until CDP creates its own preservation and restoration lab, the conservator will work to find a practical solution in order to preserve the document, by having recourse to another center or by any other means, and under the direct supervision of the project manager.

* Scanning technician, whose job is to scan or to photograph the documents to be digitized.




* Cataloger and indexer, whose job is to organize the worked material under bibliographic records, in order to facilitate research.

* One or more scholars, whose job is to study a manuscript or a document, analyze it and criticize it, in order for it to be published under soft or hard form. This person can be a part-time employee, or even a contractual employee, hired to work for a specific period of time or on a specific project.