LERC attended a one-day activity at the Lebanese Youth Camp for Residents and Emigrants in Kfarhouna, South Lebanon
Thursday 30th July 2009
Reported by Basma Abdul Khalek, LERC Project Manager and Ali Ajroush, LERC Intern
At the invitation of Relief International, co-organizer of the Lebanese Youth Camp for Residents and Emigrants in Kfarhouna, South Lebanon, from July 25th to August 2nd 2009, the Lebanese Emigration Research Center (LERC) of Notre Dame University – Louaizé attended a one-day activity.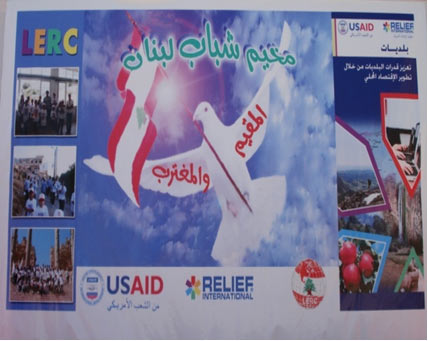 The camp's poster Kfarhouna, South Lebanon (July 2009)
The camp is an initiative by the Lebanese Emigrant and Residency Club, which was founded in 2004 with the aim of bringing together Lebanese youth from Lebanon and abroad.

This year the Kfarhouna-based club worked with Relief International to expand the camp into a national camp for both emigrants and residents.

The 120 camp participants included residents from Akkar, Jbeil, Beirut, Jezzine, Bekaa, Mount Lebanon, Kfarhouna, and other various towns across Lebanon. Participants also included emigrants from the United States, Canada, France, Germany, Ivory Coast, Saudi Arabia, and Dubai. The camp aimed to establish relations between Lebanese across Lebanon and the world. Through a workshop, the camp also aimed at developing a strategy to address problems facing Lebanon today including, education and financial aid, unemployment, political and sectarian strife, and other various problems.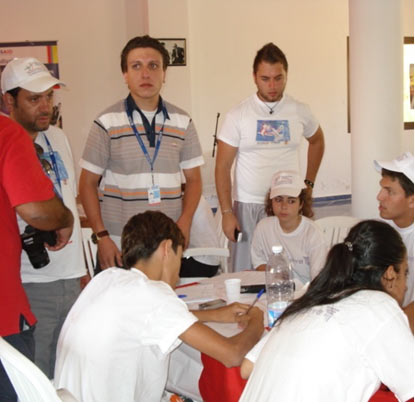 (From left to right) Mr. I. Hamze, Mr. A. Hijazi and Mr. A. Ajrouch (sitting right) at the workshop in El Rihane, South Lebanon (July 2009).
Workshop participants concluded that there was a need for more universities in their respective regions, as well as for a center to assist Lebanese youth in applying for higher education and employment. The camp also worked on community service by picking up garbage in both Kfarhouna and the beach of Sour (Tyre). Furthermore, the campers participated in a marathon in Jezzine with this assistance of Beirut Marathon. There were several classes, including one on sex-education.

The camp participants also showed their creativity on a nightly basis through acting, dancing, and other forms of performances during their "sahras". The goal of the camp was clearly achieved as there was an evident sense of unity and cooperation.
Many of the 2009 camp activities included a workshop on project identification and proposal writing, cleaning up public spaces, hiking and nature discovery, and graffiti painting.


Graffiti painted by young artists, Kfarhouna, South Lebanon (July 2009).