The Head of Middle Eastern Studies at the Department of Oriental Studies at Stockholm University in Sweden Visits LERC
Thursday 28th May 2009, LERC, NDU
Reported by Elie Nabhan
The Head of Middle Eastern Studies at the Department of Oriental Studies at Stockholm University in Sweden, Professor Elie Wardini, who specializes in Arabic and Semitic Languages, scheduled a visit to the Lebanese Emigration Research Center of Notre Dame University-Louaizé.
Professor Wardini was welcomed to the Center by Director Guita Hourani and Ms. Basma Abdul Khalek, Project Coordinator at LERC.
In a private meeting, Director Hourani introduced Professor Wardini to the infrastructure at LERC, giving him an overview of its objectives, activities and current research work.
In turn Professor Wardini introduced his work and research in the Middle East and in Lebanon, particularly his published book Lebanese Place-Names (Mount and North Lebanon): A Typology of Regional Variation and Continuity, which covers 1724 place-names in the two districts to document the "present etymologies of these names based on the latest findings in Semitic lexicography, onomastics and dialectology."
Discussion also raised the possibility of Professor Wardini conducting a workshop at LERC during his stay in Lebanon, as well as a joint project between himself and LERC concerning migration in Sweden.
Professor Wardini was then introduced to the Lebanese Emigration Archives and Database by Mrs. Liliane Haddad and taken on a tour of the Lebanon and Migration Museum at NDU by Mr. Elie Nabhan.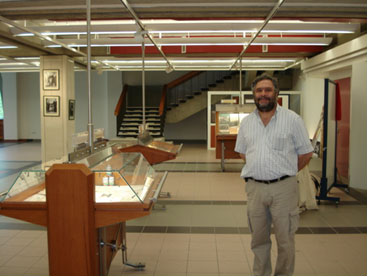 Professor Wardini at the Lebanon and Migration Museum at NDU (May 2009).