Activating the Memorandum of Understanding between NDU and the University of Malta
Visiting Professor welcomed at LERC
12th February, 2008
With regards to the Memorandum of Understanding in place between NDU and the University of Malta, the Lebanese Emigration Research Center has welcomed to its premises Dr. Martin Zammit for a two week working stay in Lebanon.
Dr. Zammit is a scholar of Semitic Languages at the University of Malta specializing in Arabic and Syriac and a Senior Lecturer at the University's Department of Arabic and Near Eastern Studies.
His visit to NDU will include discussions with the Department of Humanities to coordinate avenues of future cooperation particularly to learn more about NDU's Summer Arabic Language Program; the visit will also comprise visits to NDU's Digitization and Preservation Center (DPC). At the DPC Dr. Zammit intends to familiarize himself with the Arabic and Syriac manuscripts that are digitized and held in the Center.
Dr. Zammit's pursuit of ancient writings will include trips to the L'Université Saint-Espirit, Kaslik, to view the collection of Syriac and Arabic manuscripts, as well as the collections of the Syriac Catholics housed in Deir el-Sharfeh. He will also pay a visit to the University of Balamand and the Center for Eastern Studies and Research (CERO) in Antelias.
Dr. Zammit has published a book 'Enbe men Karmo Suryoyo (Bunches of Grapes from the Syriac Vineyard: A Syriac Chrestomathy). It is a volume of Syriac prose and poetry dating from the second to the thirteenth centuries AD. The book is intended primarily for students who have covered the essentials of Syriac morphology and syntax but holds interest for anyone who enjoys Syriac literature in general. Dr. Zammit has another publication entitled A Comparative Lexical Study of Qur'anic Arabic
Dr. Zammit has been granted an audience with His Beatitude Cardinal Mar Nasrallah Boutros Sfeir where he will present H. E. with his book.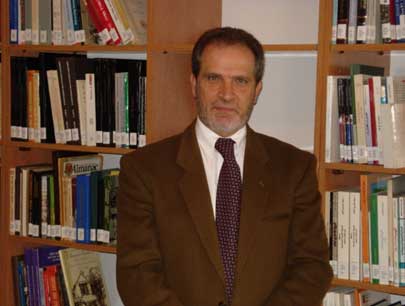 Dr. Zammit pictured at LERC during his working visit to Lebanon (Feb 2009).