Scholars interested in Lebanese and Middle Eastern and migration studies visit LERC
Tuesday, 15th April, 2008. LERC, NDU.
By Yara Romariz Maasri
Visiting Research Assistant
LERC had the pleasure of welcoming three scholars who were interested in visiting the center to find out more about its ongoing research as well as to meet our own researchers. These scholars, all of whom share an interest in the Middle East and related issues, such as the emigration of its inhabitants, were Dr. Theresa Alfaro-Velcamp, Associate Professor of History at Sonoma State University in California and author of a newly published book So Far from Allah, So Close to Mexico
Middle Eastern Immigrants in Modern Mexico, Dr. Elyse Semerdjian, Assistant Professor of History at Whitman College in Washington and a specialist in the Ottoman era, and Ms. Gladys Jozami, a renowned researcher on Middle Eastern migration in Argentina.
The Associate Director of LERC Ms. Guita Hourani, the distinguished visitors and LERC staff discussed research projects of common interest and the progress made by LERC in the last few years particularly in relation to its research infrastructure and the facilities provided for visiting researchers. The group then toured the Lebanese Migration University Museum at NDU, and took advantage of the opportunity to also have a glance at the adjoining geology collection. After lunch, the scholars wrapped up their visit by stopping by LERC's offices and library, and went on a virtual tour of the Lebanese Emigration Archive and Database (LEAD), after which they were presented with copies of LERC-NDU Press publications. The visitors were very touched by the warm welcome they received and sincerely impressed by the Center's collections and services.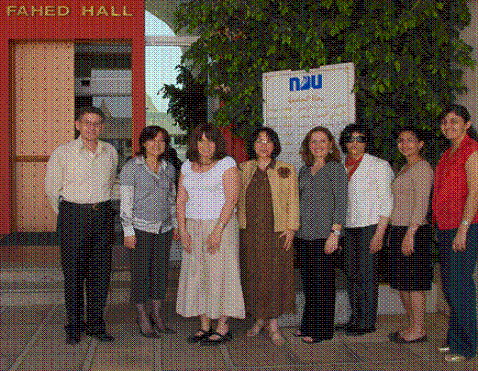 Souvenir picture of the visit of the 3 researchers left to right: E. Nabhan, L. Haddad, E. Semerdjian, G. Hourani, T. Alfaro-Velcamp, G. Jozami, Y. Romariz Maasri and B. Abdel Khalek
The following day, 16 April, Dr. Alfaro-Velcamp gave a lecture at the American University of Beirut at the invitation of The Prince Al-Walid bin Talal bin Abdul Aziz Al Saud Center for American Studies and Research (CASAR). The lecture, titled The Lebanese Abroad: Leaving and Locating the Levant in Mexican History, was attended by a mix of AUB staff, students and general public interested in the topic. LERC was represented by Ms. Hourani, and research assistants/interns Basma Abdel Khalek and Yara Romariz Maasri. Dr Semerdjian and Ms Jozami also attended.
Dr Alfaro-Velcamp's lecture covered the topics dealt with in her most recent publication, So Far from Allah, So Close to MexicoMiddle Eastern Immigrants in Modern Mexico, published in 2007 by the University of Texas Press. She spoke about her field research in Mexico, where she examined thousands of original immigration cards, in addition to other archival material, and discussed how these immigrants were received and perceived by Mexicans, mentioning different media such as letters, newspaper articles, and even cinema. The lecture was followed by a question-and-answer session, during which Dr. Alfaro-Velcamp engaged in discussion with several members of the audience, answering varied questions regarding topics such as identity issues that arise among third and fourth generation Lebanese both in Mexico and the United States, among others. Both the lecture and the question-and-answer session proved to be very informative and enlightening.