Relief International pays a visit to LERC offices
Tuesday 19th August 2008
Reported by Basma Abdul Khalek, LERC Research Assistant


Following the effort and personal initiative of Mr. Ali Hijazi, Senior Credit Officer at Relief International (RI) – Lebanon and Research Assistant at the Lebanese Emigration Research Center (LERC) of Notre Dame University, a meeting was scheduled with Mr. Imad Hamzé, Lebanon Chief of Party of Relief International, to meet on August 19, 2008 at LERC offices. The representative of RI was welcomed by LERC Director Ms. Guita Hourani, Research Assistant Ms. Basma Abdul Khalek and NDU Professor and LERC Adjunct Research Associate Dr. Edward Alam.
The meeting was an opportunity for RI to introduce its newly launched program EMLED, which aims to improve the condition of some Lebanese municipalities that face difficulties for development and have basic needs to meet.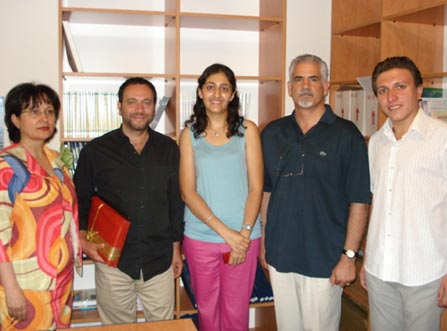 A souvenir picture of Ms. Hourani, Mr. Hamzé, Ms. Abdul Khalek, Dr. Alam, and Mr. Hijazi (August 2008).
The new program is jointly undertaken by USAID and RI in order for them to work more effectively towards the empowerment of local authorities in Lebanon and the participation of local entities and emigrants in furthering and sustainable local economic development.
In concluding the discussions, Mr. Hamzé expressed RI's eagerness to establish a close relationship with the Center, in order to foster the engagement of local populations in fruitful projects that improve their living conditions, lead them to self-sufficiency and limit the expansion of youth and women's migration.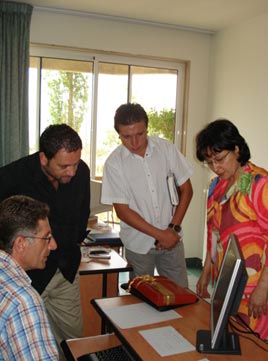 Mr. Nabhan showing Mr. Hamzé sections of the Lebanese Emigration Archive and Database, in the presence of Mr. Hijazi and Ms. Hourani (August 2008).


At the end of the visit, Mr. Hamzé was briefed on LERC's activities, resources, archives, and electronic database. A tour of the Lebanese Migration University Museum at NDU was conducted by LERC team member, Mr. Elie Nabhan, who showed Mr. Hamzé LERC's collection which depicts the history of Lebanese migration worldwide and which has been receiving new material continuously since its founding in 2005.