Representatives of the Lebanese Renaissance Foundation Visit LERC
Thursday 24th September, LERC, NDU
Reported by Elie Nabhan
In the spring of 2005 a momentous event unfolded peacefully in Lebanon captivating the attention of the world. The Lebanese Cedar Revolution was not just an outpouring of pent-up emotions triggered by a spate of political assassinations; it was a demonstration to say that most of the Lebanese wanted to live in a stable and secure democracy, free from extremism and foreign intervention.
The Lebanese Renaissance Foundation, an independent civil society group, established in Washington D.C., USA, with members of all religious beliefs, is aimed at promoting, preserving and promulgating the core values of the Cedar Revolution.
As the LRF website explained "We strongly believe that the Lebanese private sector and Diaspora are uniquely positioned to positively influence Lebanon's rebuilding power, through the planning, governance and tools at the disposal of the Lebanese Renaissance Foundation."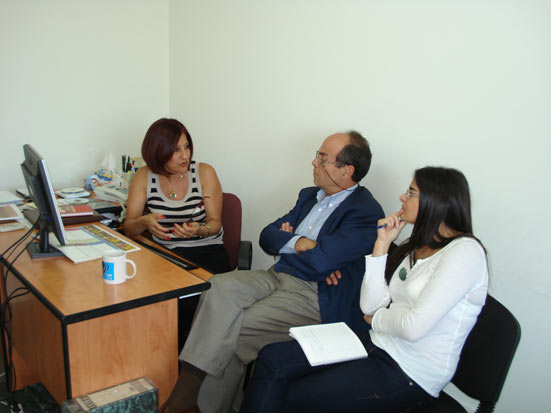 Mr. Bustros (center) with Ms. Abi Farah (right) listen attentively to Mrs. Haddad presenting the Lebanese Emigration Archives and Database (Sept 2009).
The LRF is keen on attracting resources from and working with Lebanese individuals and organizations abroad.
With this in mind, the Lebanese Emigration Research Center welcomed to its premises Mr. Fady Bustros, Executive Director of LRF and Ms. Sabine Abi Farah, Project Manager at LRF.
The guests met with LERC's Director Ms. Guita Hourani who discussed among other things the ability of LERC to cooperate with LRF on issues related to the Lebanese Diaspora's role in the development of Lebanon.
Both Mr. Bustros and Ms. Abi Farah were then shown through the LERC premises and given a presentation of the Lebanese Emigration Database by LERC Indexer Mrs. Liliane Haddad.
Cleary impressed Mr. Bustros said that "the work at LERC was the best way of reconciling the past with the present in order to prepare for the future." Equally impressed was Ms. Abi Farah who thanked LERC "for putting her in touch with her Lebanese roots" something she is proud of.
The trip was concluded with a tour of the Lebanon and Migration Museum at NDU by Elie Nabhan.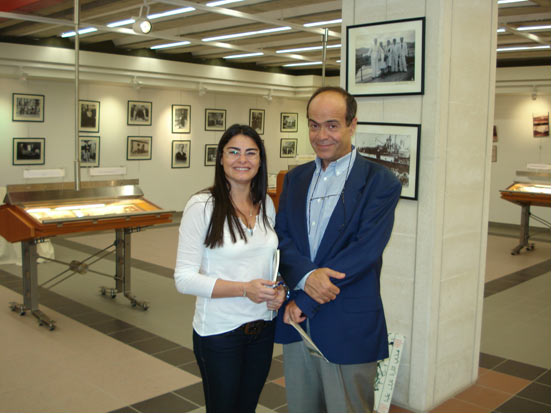 Mr. Bustros photographed with Ms. Abi Farah at the Lebanon and Migration Museum at NDU (Sept 2009).