Members of "Les Amis du Portugal" pay a visit to LERC
Thursday 21st May 2009, LERC, NDU
Reported by Elie Nabhan
The Lebanese Emigration Research Center welcomed to its premises the president of the Portuguese – Lebanese Group, Les Amis du Portugal, Mrs. Maria Vieira-Azar, Mrs. Nadia Assaf a Lebanese National who has lived in Portugal and in Brazil, and group member Mrs. Najwa Chelala Tarazi, Attorney at Law and Professor of Law at La Sagesse University in Beirut, accompanied by Mr. Roberto Khatlab, LERC's Latin American Liaison Officer.
Mrs. Maria Vieira-Azar, who married a Lebanese national and is currently residing in Beirut, comes from a prominent Portuguese family.
Arriving at LERC, the members of Les Amis du Portugal were interested in learning more of the Center's initiatives and activities. They were given a review of the Lebanese Emigration Archives and Database by LERC Indexer Mrs. Liliane Haddad. The group was then taken on a tour of the Lebanon and Migration Museum at NDU.
The Portuguese – Lebanese group, Les Amis du Portugal was announced on June 10th 2008 when members of the Portuguese community in Lebanon, at the personal initiative of Mrs. Maria Vieira-Azar, met together to celebrate with Portugal its national day and culture. It is a day when the Portuguese nation brings to mind its communities, and immigrants of around five million people spread around the globe, including Lebanon.
The group recognized that historically Portugal was used as a springboard for Lebanese and a warehouse for trade between Portugal and South America. Overtime, the descendants of the Lebanese in Portugal integrated into Portuguese society. Today this society consists of hundreds of Lebanese, many of them now professionals active in medicine, engineering, telecommunications and investments. This includes such families Assaf, Aziz, Fallah, Faour, Hariri, Khoury, Saad and Taje as well as the Azar Family.
Clearly impressed by LERC's archives and museum, the members of the group stated their interest in assisting LERC in its efforts and promised to send material to the Center.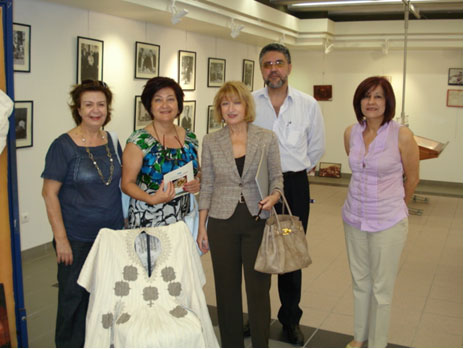 Visiting the Museum (from left-right): Mrs. Assaf, Mrs. Chelala-Tarazi, Mrs. Vieira-Azar, Mr. Khatlab and Mrs. Haddad (May 2009).