LERC attends the National Day of Uruguay
Tuesday 23rd June 2009, Beirut
Reported by Basma Abdel Khalek, LERC Project Manager
At the invitation of H.E. Jorge Luis Jure Arnoletti, Ambassador of Uruguay, LERC attended the National Day of Uruguay at the Robert Moawad Private Museum in Beirut on June 23, 2009, represented by Project Manager, Ms. Basma Abdel Khalek.
The event was held in collaboration with the Robert Moawad Private Museum in Beirut, and was attended by prominent personalities including the representatives of the President of Lebanon General Michel Sleiman, the President of the National Assembly Mr. Nabih Berri, and the Lebanese Prime Minister Fouad Siniora. Also present at the ceremony were, ambassadors of Latin American countries such as Venezuela, Cuba, Colombia, and Mexico, representatives of the UNIFIL in Lebanon, as well as members of the Lebanese-Uruguayan community.
The event started with the National Anthems of Lebanon and Uruguay and was followed by the speech of the Ambassador of Uruguay H.E. Dr. Jorge Luis Jure, who welcomed the guests and emphasized the historic relationship existing between Lebanon and Uruguay. This began with consular relations in the 1920's and full diplomatic relations in 1945 after Lebanon's independence. He also thanked the embassy's staff for their efforts and extended his gratitude to Lebanese friends for their attendance.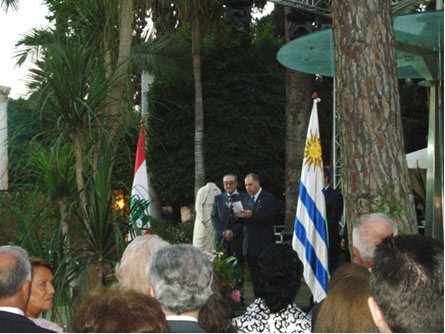 H.E. Jure Arnoletti delivering his speech at the National Day of Uruguay (June 2009).
The ceremony was an occasion to inaugurate the exhibition of "HechoAcA" that represents a new line of handicrafts from Uruguay containing articles for home decoration, gifts and bijouterie.
The ceremony was concluded with the National Anthem of Uruguay being sung by H.E. the Ambassador and families of Uruguayans residing in Lebanon.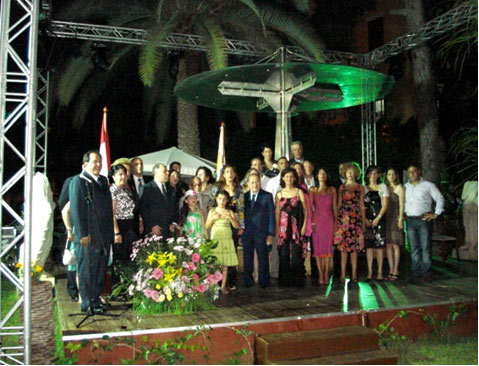 The Uruguayan National Anthem being sung to close the event (June 2009).