LERC participates in Nigeria's Independence Day Celebration at the Coral Beach Hotel, Beirut
Wednesday 1st October 2008
Reported by Basma Abdul Khalek (LERC Research Assistant)
On the occasion of Nigeria's Independence Day, LERC responded to the invitation of H.E. Hameed Opeloyeru, Ambassador of Nigeria, to a reception organized at the Coral Beach Hotel in Beirut on October 1, 2008. The Lebanese Emigration Research Center was represented by LERC team member Elie Nabhan, a Nigerian of Lebanese descent, LERC Visiting Researcher Dr. Peter Adebayo, from the University of Ilorin in Nigeria, and Research Assistant Basma Abdul Khalek.
Also present at the ceremony were H.E. Mr. Fawzi Salloukh, Minister of Foreign Affairs representing Lebanese President Michel Suleiman, Right Honorable Anwar El-Khalil, representing Speaker Nabih Berri, and Mr. Raymond Audi, Minister of Displaced Persons, representing Prime Minister Fouad Siniora, as well as several Heads of Diplomatic and Consular Missions, International Organizations accredited to Lebanon, Lebanese-Nigerians and members of the Lebanese Nigerian Friendship Association.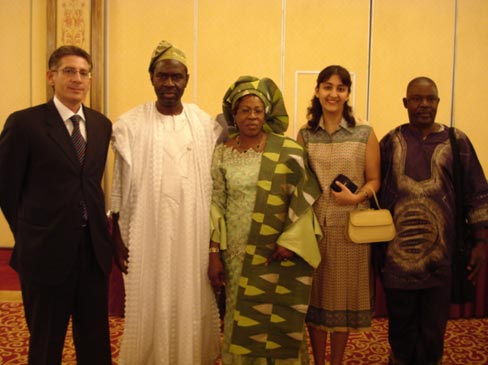 At the National Day of Nigeria (from left to righ): Mr. Nabhan, H.E. and Mrs. Opeloyeru, Ms. Abdul Khalek, and Dr. Adebayo.
To mark the occasion, H.E. Hameed Opeloyeru, delivered a welcoming speech in which he thanked the Lebanese-Nigerian community for participating in the celebration of the 48th anniversary of Nigeria's Independence. He stressed that one of Lebanon's most important assets was its historical role as a hub for trade and services, as well as its being the point of junction of both occidental and oriental cultures.
Regarding the relationship with Lebanon, H.E. the Ambassador of Nigeria congratulated the efforts of the Lebanese-Nigerian Friendship Association for maintaining and promoting the fruitful socio-economic activities between Lebanese and Nigerians, which included the organization of the Nigerian Week and the visit of the Nigerian Economic Delegation to Lebanon in July 2008, which met with prominent Lebanese organizations and institutions so as to push forward the process of economic and cultural cooperation between the two countries.