H.E. Minister of Tourism Elie Marouni visits NDU and LERC
Tuesday 18th November 2008, LERC, NDU
Reported by Basma Abdul Khalek (LERC Research Assistant)
At the invitation of NDU President Fr. Walid Moussa, H.E. Minister of Tourism Elie Marouni visited Notre Dame University-Louaizé on November 18, 2008. H.E. met with NDU President Walid Moussa in the presence of NDU Vice-Presidents for Academic Affairs Dr. Ameen Rihani and for Research and Development Dr. Assaad Eid, Mr. Suheil Mattar, Director of Public Relations, Dean of Business Dr. Elie Yachoui and the Director of the Lebanese Emigration Research Center (LERC) Ms. Guita Hourani.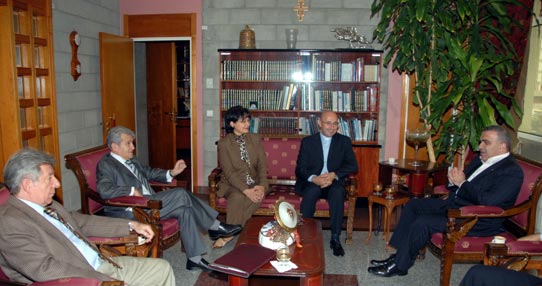 At NDU President's office (from left to right): Dr. Ameen Rihani, Mr. Souheil Matar, Ms. Guita Hourani, Fr. Walid Moussa, and H.E. Minister Marouni (Nov 2008).
Minister Marouni stressed the importance and the role of the ministry of tourism in a country such as Lebanon, and emphasized the need to build on and improve the existing tourism industry, particularly environmental tourism, religious tourism, medical tourism, and fashion art tourism. He added that the universities play a significant role in the development of the tourism sector particularly those which teach hotel management and tourism. Mr. Marouni stated that the Lebanese living abroad are a major source of touristic activities in the country and that he is visiting them in their countries of immigration to further encourage them to consider Lebanon as their vacation destination.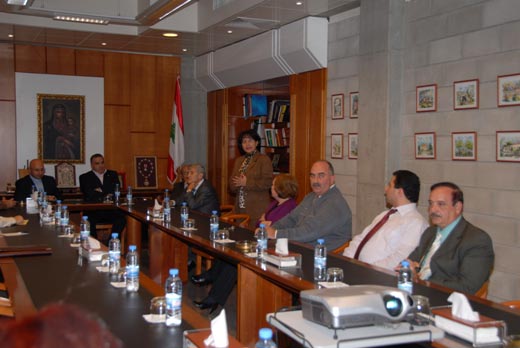 Standing, Ms. Hourani during the presentation of the Lebanese Emigration Archives and Database (Nov 2008).
Following this private meeting, the Minister and the audience joined the rest of NDU deans in the conference room where Director Hourani presented the Lebanese Emigration Archives and Database (LEAD) that compiles different kinds of material such as books, dissertations, studies, articles, photos and audio-visual items from various phases on the migration history of Lebanese individuals and families. LEAD, Ms. Hourani explained, also contains profiles of prominent Lebanese emigrants who are successful in their professions, as well as information concerning Lebanese diasporic organizations, and Lebanese diasporic businesses. Minister Marouni was impressed by the idea of collecting, documenting and indexing this kind of material on the Lebanese migration which among others preserve the history of Lebanon in general and that of migration in particular. To extend LERC's collections, Mr. Marouni suggested running a campaign encouraging all Lebanese to share their family's migration experience and documents with LERC.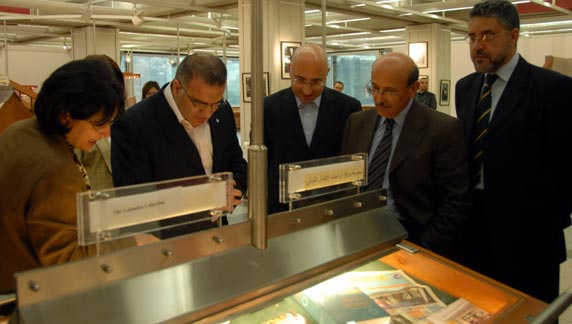 H.E. Marouni in front of one of LERC's collections at the museum in the presence of Ms. Hourani, Fr. Moussa, Dr. Eid and LERC's Liaison Officer for Latin America Mr. Khatlab (Nov 2008).
At the end of the visit, H.E Mr. Marouni was taken on a tour to visit the Lebanese Migration University Museum. He examined the collections with great enthusiasm and appreciation for this initiative, recognizing some of the migrants from Zahle. Mr. Marouni's keenness for what LERC is doing was expressed by his offering LERC some of his family's migration history documents, including a collection of newspapers where his late father, an emigrant to Egypt, used to publish and other material pertaining to the migration of his grand mother to Brazil.
Minister Marouni summed up his impression of LEAD and the museum by saying that now he knows where the historical material of his family would be safely housed.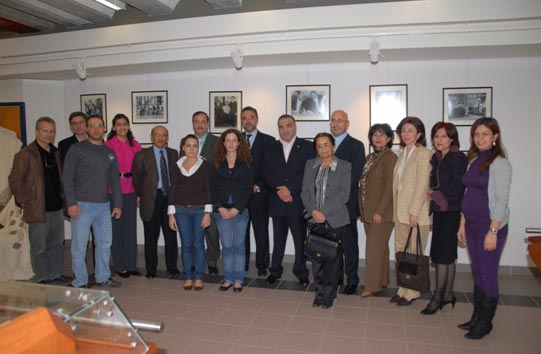 H.E. Marouni posing for a souvenir picture with Fr. Moussa, Dr. Eid, Dr. Nehme, and LERC's researchers and staff.