"Líbano-Carioca: Essa Gente Mostrando o Seu Valor": Photographic Exhibition in Rio de Janiero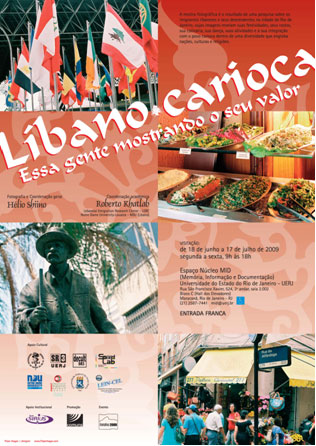 "The Lebanese-Cariocas Show their Value" exhibition which will take place in Rio de Janeiro in Brazil from June 18 to July 17, 2009 is, according to the Japanese artist Photographer Hélio Shiino, "the result of research on the lives of Lebanese immigrants and their descendents in the City of Rio de Janeiro. The images disclose their celebrations, faces, cuisine, dances, and activities." The exhibition also "shows their integration into the local population, highlighting the diversity that encompasses nations, cultures and religions."
This exhibition is a product of the cooperation between the Photography and General Coordinator Hélio Shiino, and Roberto Khatlab, Liaison Officer for Latin America at the Lebanese Emigration Research Center of Notre Dame University- Louaize. Mr. Khatlab acts as the academic coordinator for this exhibition.
The exhibition, which is open to the public free of charge, will takes place at the State University of Rio de Janeiro - UERJ Space Center MID (Memory, Information and Documentation) Rua São Francisco Xavier, 524, 2nd floor, Room 2002 Block C (Hall of lifts) Maracanã Rio de Janeiro – RJ, Brazil.

The Exhibit is the outcome of the cooperation of the institutions indicated below.
Event:
FotoRio 2009 - Encontro Internacional de Fotografia do Rio de Janeiro

Cultural Support:
State University of Rio de Janeiro - UERJ
Sub-Dean for Extension and Culture - SR-3/UERJ
Cultural Department - DeCult/SR-3/UERJ
Speed Lab - Professional Photo Lab
Notre Dame University-Louaize - NDU (Lebanon)
Lebanese Emigration Research Center – LERC (Lebanon)
Universidade Federal de Santa Maria - UFSM
Laboratory of International Studies - Center for Lebanese Studies

Institutional Support:
Network Library of Sirius / UERJ
Core Memory, Information and Documentation - MID Center / Network Sirius / UERJ

Promotion:
Directorate of Social Communication - Common / UERJ

Graphic Design:
Filipe Chagas

Fitting/Montage Procedure:
Sidiney Rocha Fabíola and Nevis