LERC Introduces its Research Infrastructure to Latin American Ambassadors
Thursday, 8th May, 2008. NDU.
Notre Dame University and The Lebanese Emigration Research Center welcomed five Latin American Ambassadors to the NDU auditorium for a series of presentations. The event was to mark a five-year milestone for LERC, its achievements and vision, within the overall context of NDU.
The Ambassadors who attended were Ambassador of Colombia Georgine El-Chaer Mallat; Ambassador of Mexico Jorge Alvarez, Ambassador of Paraguay Alejandro Hamed Franco, Ambassador of Uruguay Jorge Luis Jure Arnoletti, and the Ambassador of Venezuela Zoed Duaiji Karam. Ambassadors of Cuba, Chile, Argentina and Brazil were unable to attend due to the insecurity that again engulfed Lebanon. Those who attended on behalf of NDU behalf were NDU President Fr. Walid Moussa; NDU Vice President for Research and Development Dr. Assaad Eid; Director General Public Relations and Information Mr. Suhail Matar; the Dean, Faculty of Humanities, Dr. Carol Goff-Kfouri; Director of NDU Libraries Ms. Leslie Alter Hage; Director of International Affairs Dr. Michel Nehme; Associate Director of LERC Ms. Guita Hourani; LERC Latin America Liaison Officer Mr. Roberto Khatlab, LERC visiting researchers Mr. Rudyard Kazan, Ms. Basma AbdelKhalek, Mr. Alexander Henley and Mr. Wolf-Hagen von Angern; and LERC assistant Ms. Ghada Khoury, Ms. Liliane Haddad and Mr. Elie Nabhan, the latter acting as the Master of Ceremonies.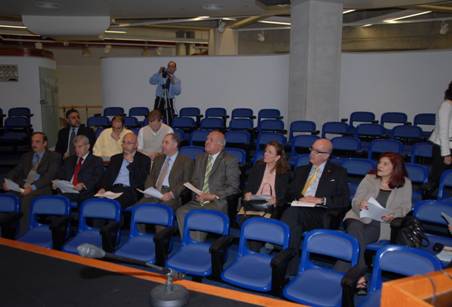 From left to right: Dr. Michel Nehme, Mr. Suhail Matar, President Fr. Walid Moussa, Mr. Arnoletti Ambassador of Uruguay ,Mr. Franco Ambassador of Paraguay, Ms. Mallat Ambassador of Colombia, Mr. Alvarez Ambassador of Mexico, and Ms. Karam Ambassador of Venezuela.
Following a welcoming note by Associate Director Hourani, Dr. Assaad Eid then drew parallels between refusing to accept defeat and overcoming challenges not just for NDU but for Lebanon and its emigrants worldwide. LERC, he then said, had been actively involved in carrying out empirical research, in developing effective links with local and international organizations and in providing professional training for interested researchers. He further explained that the Center was now involved in providing a unique repository for research studies on the Lebanese diaspora to attract more scholars and researchers from all continents and cultures.
Reverend President Walid Moussa then paid tribute to the efforts of LERC, as well as to the former Presidents and Vice-Presidents of NDU, for their vision in establishing LERC and their commitment to addressing the issues related to the Lebanese diaspora in a more academic manner. President Moussa then shared with the distinguished gatherers the decision of NDU to allocate a piece of its prime land to build the Lebanese Migration University Museum at NDU. He then called on the Ambassadors and their countries to join hands with NDU to build this edifice, a commitment, he added, that would be crucial in recreating the history of Lebanese emigration as well as being a destination that would showcase their respective countries and cultures.
With a legitimate sense of pride, LERC then moved on to a series of presentations, the first being by Ms. Hourani who then described the Lebanese Emigration Archive and Database (LEAD), while Ms. Haddad was showing the content of LEAD as one of the LERC research infrastructures with samples of MA and PhD theses on Lebanese migration from around the world. It was explained that LERC also had the most extensive electronic and digital collection on Lebanese migration, as well as a very diverse resource library. LERC's nucleus museum includes small collections from Brazil, Nigeria, Mexico, and Lebanon. In all of LERC's collections one could find books, articles, papers, essays, monographs, biographies, memoirs, journals, newspapers, directories, anniversary and special issues, postcards, stamps, diasporic literature including poetry and novels, family and genealogical chronicles, village history books, diaries, manuscripts, interviews, illustrations and drawings, maps, posters, invitation cards, Christmas and other cards, diasporic association accounts, music CDs, cassettes, records and other types of audio recordings, motion pictures such as films, movies, videos, documentaries, DVDs and the like, pamphlets, periodicals, petitions, and cultural material.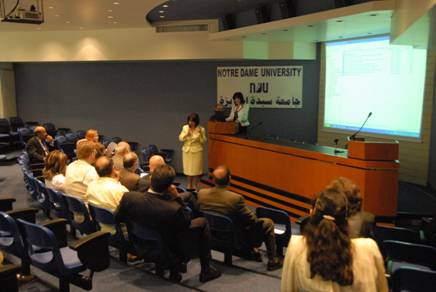 Ms. Hourani delivering her presentation.
Ms. Hage described the important role of NDU library in providing support for and complementing in many ways LERC resource library. She described the language diversity of LERC collection. She also mentioned that NDU has one of the very few libraries in Lebanon that are open to the public.
Dr. Kfouri highlighted NDU's Summer Arabic Language Program, which is a four-week program that engages students in the culture of contemporary Lebanon. Participants will learn formal and colloquial Arabic at the preliminary, preparatory, intermediate, and advanced levels through classes, individual tutorials and daily practice with Lebanese conversation partners.
Mr. Khatlab then proposed the Academic Information and Documentation Center for Latin America (IDCAL) which will, among other things, be a center for the study of the languages and literature of the Spanish-speaking and Portuguese-speaking civilizations and pedagogically complement LERC and the Lebanese Migration University Museum.
Commenting on the presentations, Ambassador Mallat of Colombia said that Lebanese emigration was source of pride for Lebanon as well for all the countries that have welcomed it. She then said that LERC through its global approach, its meetings and its publications; had opened the doors to a human and scientific possibility of meeting and interacting in a way to win back Lebanese emigrants whose relations with the mother country should never have been cut. The Ambassador was pleased to know that LERC had appointed a Liaison Officer for Latin America, Mr. Roberto Khatlab, to facilitate and deepen cooperation between the LERC and NDU on one hand and the Latin American countries and communities on the other.
Ambassador Franco explained how the integration of emigrants from the Middle East in Paraguay was facilitated by social similarities and education in public schools and how this had helped the Lebanese to gain social recognition in diverse fields. His Excellency then recognized LERC as a farsighted institution concerning the relationship with the immigrants and their descendants in the Latin American Countries.
Ambassador Alvarez of Mexico went on to mention the tremendous efforts of NDU and LERC in migration research and documentation. Migration, he said, was at the very core of nation building whether in Lebanon or in Mexico. Mexican migrants were changing the fabric and participating in the nation-building of the USA in away to that of the participation of the Lebanese in Mexico. He then stated that for the bi-centennial of Mexico in 2010, Mexico would pay close attention to the particular efforts of the Lebanese participation in the Mexican revolution, an effort of tremendous value.
He stated that IDCAL documentation center in cooperation with LERC would be of vital importance to Latin American countries.
In a final remark, Ms. Hourani stressed that the land donated for the Lebanese Migration University Museum was a sign of commitment by NDU to the cause of Lebanese emigrants. She concluded by saying that each wing would bring to life each country's contribution, material that showed migration and the migratory experience, and envisioned that IDCAL could evolve into an organization representing the Latin American states. The meeting ended with a visit to the nucleus migration museum and a pledge by attending ambassadors to support LERC, IDCAL and the museum.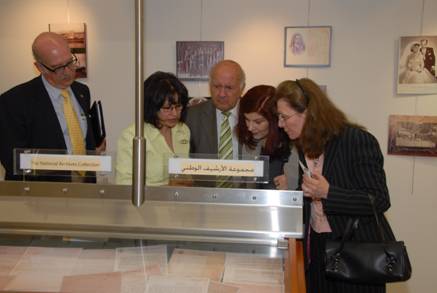 From left to right: Ambassador Alvarez, Ms. Hourani, Ambassador Franco, Ambassador Karam, and Ambassador Mallat.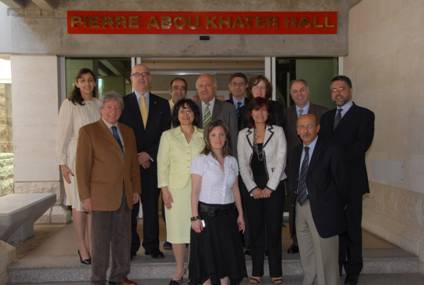 Back from left to right: Ms. Abdel Khalek, Ambassador Alvarez, Mr. Kazan, Ambassador Franco, Mr. Nabhan, Ms. Hage, Ambassador Arnoletti, and Mr. Khatlab.
Front from left to right: Dr. Rihani, Ms. Hourani, Ms. Khoury, Ms. Haddad, and Dr. Eid.