Japanese Scholars pay visit to LERC
Thursday 26th February 2009, LERC, NDU

Thanks to the intermediary of the Japan Center for Middle Eastern Studies, LERC welcomed Dr. Aiko Nishikida and Dr. Takayuki Yoshimura of the Tokyo University of Foreign Studies. Dr. Nishikida is conducting her post-doctoral research on the Seven Villages while Dr. Yoshimura is pursuing his research work on the repatriation of the Armenians and the Armenian Diaspora.
The visit was the result of a relationship established by LERC and the Japan Center for Middle Eastern Studies several years ago. This relationship resulted in an invitation extended to LERC Director Ms. Guita Hourani to present two lectures in October 2007 on remittances and on the impact of the summer 2006 war on emigration from Lebanon. The aim of this relationship is to exchange academic experiences and to increase awareness of Lebanon among Japanese and to stimulate studies of common interest.
Following a fruitful meeting with Director Hourani, Drs. Nishikida and Yoshimura were shown on a tour of LERC, shown a demonstration of the electronic archives by Ms. Liliane Haddad, and taken on a guided visit to the Lebanon and Migration Museum at NDU by Mr. Elie Nabhan.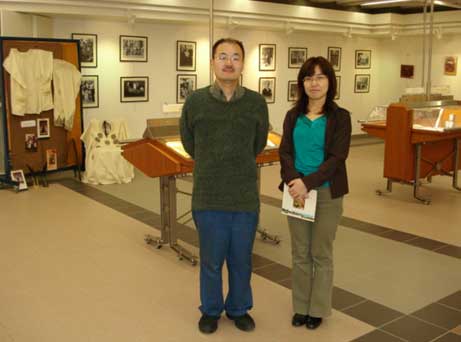 Japanese scholars Dr. Yoshimura (left) and Dr. Nishikida at the Lebanon and Migration Museum at NDU (Feb 2009)
At their request they were also taken to NDU library, where they were welcomed and shown the facilities. Both researchers were impressed by the NDU library and by the research infrastructure of LERC.