LERC Receives the Chair of the Irish Lebanese Cultural Foundation
Saturday, 15th March, 2008.
The Irish Lebanese Cultural Foundation (ILCF) brought The Boatmen singing group to Lebanon to celebrate St. Patrick's Day according to Irish tradition. This was also an occasion for LERC to meet the Chairperson of the ILCF Mr. Guy Younes and arrange for an interview at LERC.
The St. Patrick's Day celebration was held at O'Cacti restaurant in Zouk Mosbeh and was attended by LERC's staff and friends, who enjoyed the native Irish folklore music and songs by The Boatmen.
On March 18, Mr. Younes visited LERC and was given a tour of the Lebanese Migration University Museum at NDU and a virtual tour of LERC electronic archives and database. To take advantage of his visit, Mr. Younes was interviewed in order to record his own story of migration and to document the history and objectives of the ILCF.
Being a migrant himself for over 32 years, nine of which were spent in Ireland, Mr. Younes has experienced first hand the difficulties faced by newly arrived migrants trying to get assimilated in their new environment. Once he had settled down, Mr. Younes established the Irish Lebanese Cultural Foundation. Since its foundation in 2001, ILCF has grown slowly but steadily through literary, artistic, musical and culinary events focused on increasing awareness about the traditions and heritage of Lebanon.
The Foundation became active during the July 2006 War, with Irish people participating in the fundraising events that aimed at buying and shipping hospital beds, clothing and medication to the victims of the War. The Foundation also pioneered and is sponsoring The International Tabbouli Day which is aimed at rediscovering the authentic Lebanese recipe and taste and promoting it as part of Lebanon's heritage.
Mr. Younes agreed that LERC, as a growing international center, was playing a fundamental role that benefits all Lebanese and confirmed that he was looking forward to continuing cooperation with the Center.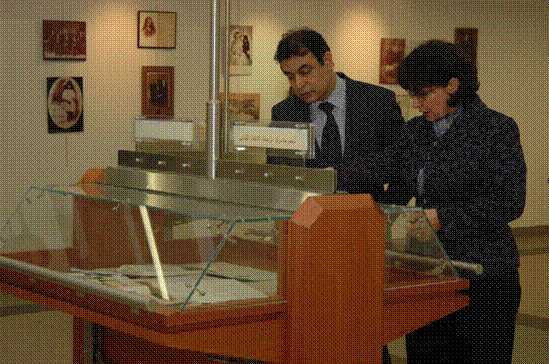 LERC Associate Director Ms. Guita Hourani (right) explains about a migrant collection to Mr. Guy Younes(left).