Business Visit by IFP Group and LIBC Officials to LERC
Thursday 4th December 2008, LERC, NDU
By LERC Staff

LERC received Mr. Albert Aoun, Chairman of International Fairs and Promotions (IFP), and Mr. Bassam Kantar, Journalist and Media Planner for LIBC, accompanied by Mr. Danny Asfour. The purpose of their visit was to invite LERC as partners for the Planet Lebanon 2009 which will take place in Beirut on 29th and 30th of July 2009, as well as to familiarize themselves with LERC research and information infrastructure.
The meeting with Ms. Guita Hourani, Director of LERC, dealt with the interest of the organizers of Planet Lebanon 2009 in having NDU represented by LERC as the academic collaborator.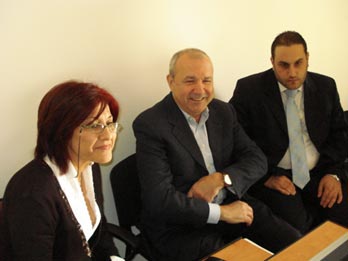 Ms. Haddad, Chairman Aoun and Journalist Kantar exploring the material in LEAD (Dec 2008).
The upcoming event in 2009 has been christened the Lebanese-Arab Expatriates Networking Conference and will have as its patron His Excellency General Michel Sleiman, the President of the Republic. The conference expects to attract entrepreneurs, businessmen, governmental and non-governmental officials, financiers, economists, bankers, academics and representatives of diverse national, regional and international institutions. The conference panels will discuss topics ranging from diaspora-homeland relations to finance, banking, development, ICT, real estate development, and tourism among others.
Following the lengthy meeting with Director Hourani, the visitors were introduced to the electronic Lebanese Emigration Archive and Database (LEAD) with Ms. Liliane Haddad presenting the diverse collections, from academic and intellectual texts to cultural and audio-visual subjects.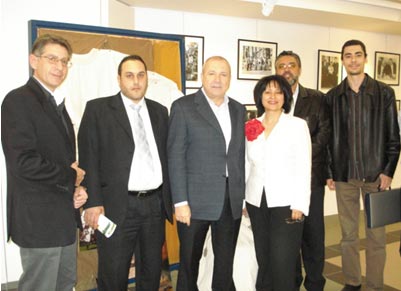 Left to right: E. Nabhan, B. Kantar, A. Aoun, G. Hourani, R. Khatlab, R. Araujo at the museum (Dec 2008).
The visit concluded with a tour of the Lebanese Migration University Museum at NDU, where the visitors were introduced to LERC collections from around the world. Mr. Aoun showed great interest in the collections and was happy to have recognized photos of persons he knew. As Mr. Aoun was bidding the LERC team goodbye, he expressed his amazement at the beauty of NDU campus and his admiration for what LERC has done so far.