LERC receives visit of Argentinean-Lebanese dabkeh dance group leader.
Tuesday, 11th March 2008. LERC, NDU.
By Yara Romariz Maasri
LERC Visiting Research Assistant
LERC received a visit from a member of the Lebanese diaspora in Argentina. Munir Nellmeldin, a third generation Lebanese and passionate Lebanese folklore leader and performer, met with Associate Director Ms. Guita Hourani to discuss future collaboration between LERC and himself on behalf of his organization Firkat Al Arz of the SociedadLibanesa de Rosario.
In addition to being a member of this organization, Mr. Nellmeldin is also the president of Firqat al Arz, a dabkeh dance group that performs at cultural events around Argentina. For the past ten years he has been regularly training and performing alongside twenty other group members, and his visit to Lebanon had as main objectives a) the promotion of their work in Argentina; b) their recognition by the Lebanese government as an official medium for promoting Lebanese culture abroad; and c) improving his authentic folklore dancing by taking private dance lessons with a specialist.
After a tour of the Museum conducted by Mr. Elie Nabhan, accompanied by Research Assistant/Intern Yara Romariz Maasri (who acted as an interpreter between English and a mixture of Portuguese and Spanish), and a virtual tour of LERC's computerized archives, Mr. Nellmeldin discussed with Ms. Hourani ways in which the the Sociedad Libanesa de Rosario and Firqat Al Arz could cooperate on issues of common interest. Mr. Nellmeldin expressed a wish to contribute material to the museum to make sure that the Lebanese presence in Argentina is marked there alongside the other countries represented, such as Brazil and Mexico. Ms. Hourani and Mr. Nellmeldin agreed to collaborate on a number of matters with a view to cultivating, with his help, a lasting relationship with Lebanese diaspora members in Argentina.
Before leaving, Mr. Nellmeldin presented LERC with a DVD of Firqat al Arz performances.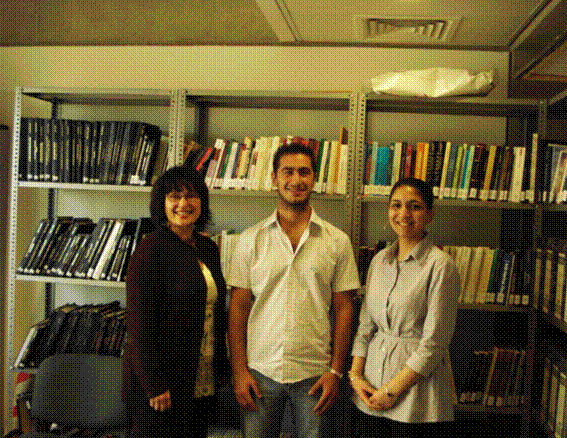 Associate Director of LERC, Guita Hourani (left) and LERC Visiting Research Assistant Yara Maasri(right) welcome Munir Nellmel din of Rosario Argentina on his visit to LERC.