Author Mr. Louis Farshee visits LERC
Thursday 18th September 2008
Reported by Basma Abdul Khalek, LERC Research Assistant

Mr. Louis Farshee paid a scheduled visit to the Lebanese Emigration Research Center at Notre Dame University (NDU) on September 18, 2008, when he met with LERC Director Ms. Guita Hourani. Mr. Farshee (Farshakh), an American of Lebanese descent, was keen on visiting the Center to discuss his current manuscript which details the history of his grandfather's migration to the United States placed within the socio-economic and migration context of the United States between the late 19th and early 20th century.
Also present at the present at the meeting were NDU Professor and LERC Adjunct Research Associate Dr. Edward Alam, and Dr. Joanne Farshakh Bajjaly, a journalist in archeology and cousin of the author.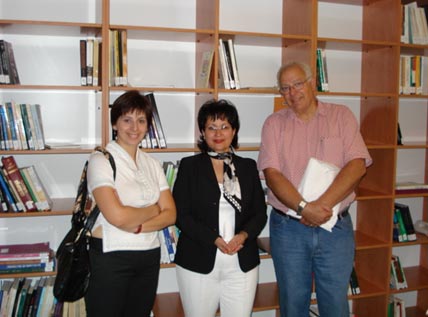 A souvenir picture in LERC's library, from left to right: Dr. Farshakh Bajjaly, Ms. Hourani and Mr. Farshee. (September 2008).
The discussion centered on Mr. Farshee's interest in having his book published by LERC and NDU Press. For its part, LERC stated its interest in setting up a committee to study the manuscript for publication as well its desire to obtain copies of original documents and photos from the Farshee family archives and the like in order to further enrich LERC's electronic archive and the Lebanese Migration University Museum at NDU.
To complete the visit, LERC team member Elie Nabhan accompanied Mr. Farshee and Dr. Bajjaly on a guided tour of the Museum. Mr. Farshee expressed his great enthusiasm about the opportunity of working with LERC and having his book published by NDU Press. He was most impressed by the Museum and by LERC as a documentation center.