Honorary Consul of Lebanon in Kano, Nigeria, visits LERC
Tuesday, 27th May, 2008. LERC, NDU.
The Consul of Lebanon in Kano, Nigeria, Mr. Mohammed-Ali Fadlallah, paid a courtesy call to LERC, where he met LERC Associate Director Ms. Guita Hourani and members of the LERC team. Discussions with Ms. Hourani centered on the Lebanese emigrants in Nigeria in general and in Kano in particular, and touched upon the history of Lebanese emigration in Africa.
The Honorable Fadlallah was introduced to the LERC research infrastructure, i.e the archives and database, and was taken on a tour of the Lebanese Migration University Museum at NDU, where he saw firsthand the Brazilian, Mexican, Colombian, Nigerian and LERC collections on Lebanese migration.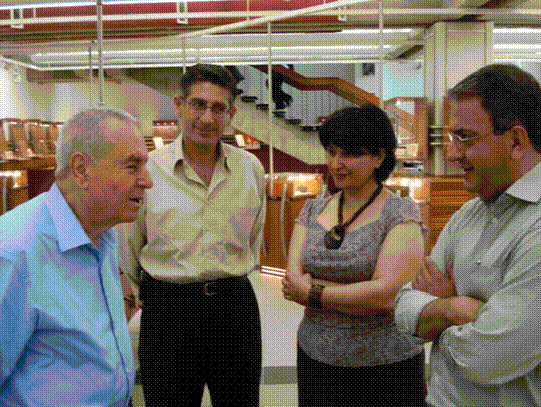 From left to right: The Honorable M-A. Fadlallah, E. Nabhan (LERC), G. Hourani, Assciate Director of LERC and S. Abou Jaoude (NDU Director of Alumni Affairs Offices) (Fadlallah, Nabhan abd Abou Jaoude were all born in Nigeria).
The Honorable Mr.Fadlallah presented LERC with a copy of the book The Lebanese in Kano by Dr. Sabo Abdullahi Albasu,which traces the history of Lebanese presence in the historical city of Kano in Northern Nigeria. LERC reciprocated by presenting a copy of one of LERC's publications The Lebanese in the Ivory Coast by Dr. Dunia Fayad-Taan.
The Honorable Fadlallah and Ms. Hourani agreed to intensify communication and to strengthen cooperation between the community in Kano and the Center.