LERC and NDU launch new publication
Friday, 14th December, 2007. BIEL, Beirut.
A book signing by author Dr. Dunia Fayad Taan of her work The Lebanese in the Ivory Coast 1900-1986, took place at the Notre Dame University stand at the 51st Beirut International Arab Book Festival held in the Beirut International Exhibition and Leisure (BIEL) Conference Center.
The event this year was a ten-day celebration of reading and writing with 133 publishing houses presenting a wide range of books. The event has taken place every year since 1956 even through the most violent of Lebanon's upheavals. Its relative openness and tolerance is a tribute to the freedom of thought and speech throughout the Arab World.
Dr. Taan, an Associated Researcher at the Lebanese Emigration and Research Center, is an ethno-sociologist with a Ph.D. from the Université de Nice in France and her book, an expansion of her dissertation Les Libanais en Cote d'Ivoire d'Hier a Aujourd'hui, was a recent publication of NDU.
Dr. Taan, who hails from South Lebanon, has spent time studying and living abroad especially in France, Morocco and the Ivory Coast. The book is a result of further research into West Africa and will prove invaluable to researchers and students interested in the field of migration.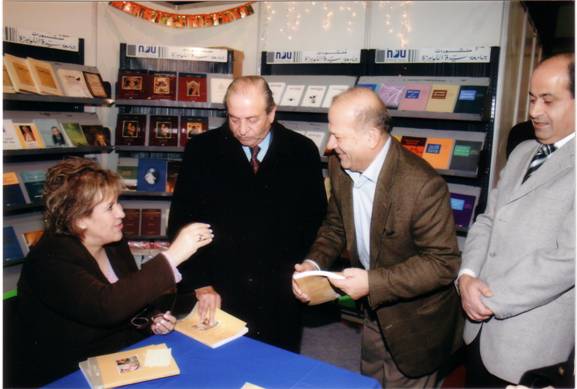 Dr. Dunia Fayad-Taan, author, talking to Dr. Mansour Eid, Chairperson Department of Social and Behavioral Sciences, NDU and other guests.
Friends, family members and NDU and LERC supporters attended the signing in support of Dr. Taan's efforts to document the history of the Lebanese Ivorian community.