President of the Brazilian-Lebanese Cultural Association in São Paulo, Brazil, Ms. Lody Brais visits LERC
Thursday 18th September 2008, LERC, NDU
Reported by Basma Abdul Khalek (LERC Research Assistant)
While on her visit back to her homeland Lebanon, Ms. Lody Brais, President of the Brazilian-Lebanese Cultural Association (Associação Cultural Brasil-Líbano) paid a visit to the Lebanese Emigration Research Center at Notre Dame University and met with LERC Director Guita Hourani and LERC staff. Ms. Brais was accompanied by Mr. Roberto Khatlab, LERC Liaison Officer for Latin America.
Ms. Lody Brais, born in Sebel, North Lebanon, is the daughter of the prominent Lebanese writer Moukheiber Boutros Brais, who migrated to Brazil in 1956. In 2006, she founded the Brazilian-Lebanese Cultural Association to promote cordial relationships between both countries through cultural activities and ceremonies.
After being involved in several activities concerning her homeland, Ms. Brais succeeded in bringing to the fore causes concerning Lebanon and the Lebanese whilst creating a powerful lobby within the Brazilian government and among the Lebanese-Brazilian community throughout Brazil.
Her latest achievement was the commemoration of the 125th anniversary of Gibran Khalil Gibran that was marked by the organization of several cultural events, namely photo exhibitions, and the creation of a stamp by the Brazilian State that commemorated the 20th century Lebanese born poet, writer and painter.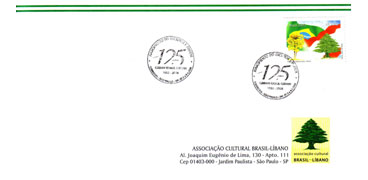 A stamp lobbied for by Ms. Brais commemorating the 125th Anniversary of Gibran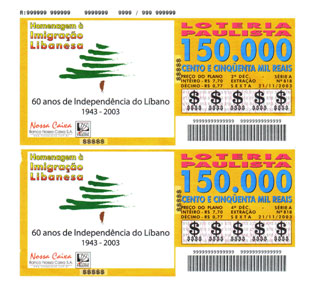 Brazilian national lottery, with the Cedar, marking the 60th Independence of Lebanon.
During her visit to LERC, Ms. Lody Brais was introduced to the Center's activities and was given a thorough overview of the Lebanese Emigration Archive and Database (LEAD), LERC's electronic database that houses a wide collection of migration related articles, books, dissertations, photos and audio-visual items.
In return Ms. Brais presented the Brazilian-Lebanese Cultural Association to LERC, including all its recent activities and achievements. She also gave LERC several important items from the organization including original stamps, lotto with Lebanese motif, magazines, articles, and the like.
The visit concluded with a guided tour of LERC's premises and the Lebanese Migration University Museum at NDU by LERC team member Elie Nabhan.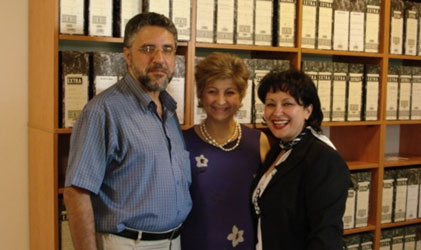 Ms. Brais on her visit to LERC flanked by Mr. Khatlab (left) and LERC Director Ms. Hourani (Sept 2008).