Argentinean historian and researcher of Lebanese origin visits LERC
Wednesday 15th July 2009, LERC, NDU
Reported by Elie Nabhan
LERC welcomed to its premises Professor Walter Amilcar Muller (Moujir), an Argentinean researcher of Lebanese descent, and introduced him to the Center's infrastructure and staff.
Professor Muller's grandfather, Ahmed Moujir, had emigrated from Deir Ntar in South Lebanon to the Argentinean city of Rosario in Santa Fe, Argentina at the end of the 19th century, where Professor Muller currently resides.
Dr. Muller is a professor of History at the Técnico Superior en Administración de Empresas. He is also a researcher at the Biblioteca Nacional de la República Argentina and a member of the Sociedad Libanesa de Rosario, which was founded in 1928.
Mr. Muller discussed with LERC's Director Ms. Guita Hourani his interest in assisting LERC in its endeavors particularly in its collection of Lebanese migration heritage in Argentina. They also discussed at length their common interest in research.
Clearly impressed with his introduction to the Lebanese Emigration Archives Database, Mr. Walter was delighted to present LERC with several artifacts of the Lebanese migration to Argentina for electronic documentation. These included original letters, documents and photos from the Lebanese Community in Rosario, photos of the Lebanese Community in the Canary Islands, and letters and correspondences sent between the Lebanese Community in the Canary Islands to family members in Rosario, Argentina.
Following a meeting with LERC's Latin America Liaison Officer, Dr. Muller and Ms. Hourani, a decision was made to have Dr. Muller join LERC as an Adjunct Associate Researcher and to appoint him Liaison Officer for Argentina.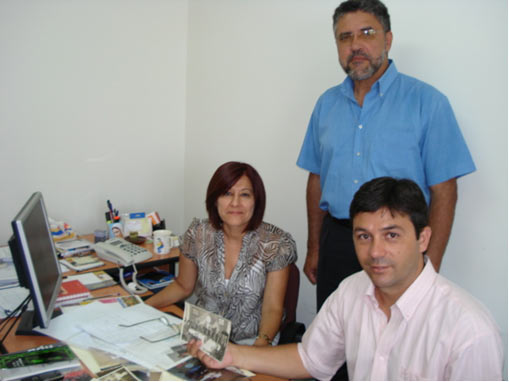 Professor W.A Muller (front right) donating and recording materials for the Lebanese Emigration Archives and Database with LERC indexer Mrs. L. Haddad and LERC Latin American Liaison Officer Mr. R. Khatlab (July 2009).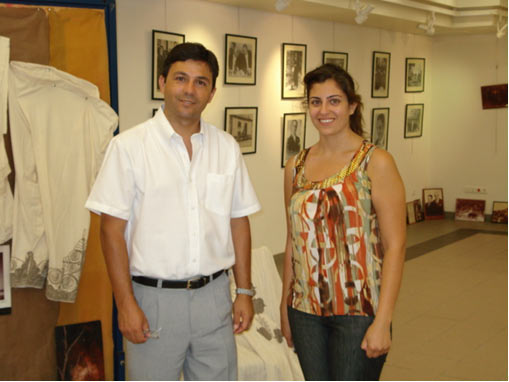 Professor W. A. Muller with LERC Intern Ms. Joelle Zlaket at the Lebanon and Migration Museum at NDU (July 2009)
Out of this impressive collection Dr. Muller donated outright to LEAD some brochures, papers presented in conferences, a CD containing one of his presentations, original documents from the Sociedad Libanesa de Rosario, a sample of old correspondences and more photos of his family amongst other Lebanese families in Rosario Argentina.