Lebanese Migrants in Australia visit LERC
Wednesday 19th August 2009, LERC, NDU
Reported by Basma Abdel Khalek, LERC Project Manager
On August 19, 2009, Mr. John Aboud and his wife Ann visited the Lebanese Emigration Research Center (LERC) at Notre Dame University, Louaizé.

Mr. Aboud is the descendent of Daher and Karma Aboud, who originally hailed from Zahle, and who migrated to Australia in the nineteenth century.

On their first visit to LERC, Mr. and Mrs. Aboud were introduced to the Center's activities especially the documentation of the history of Lebanese migration through family histories, and to the Center's resources and electronic archives. The visitors were also taken on a tour of the Lebanon and Migration Museum (LMM) at NDU where original items, documents and photos on Lebanese migration are exhibited.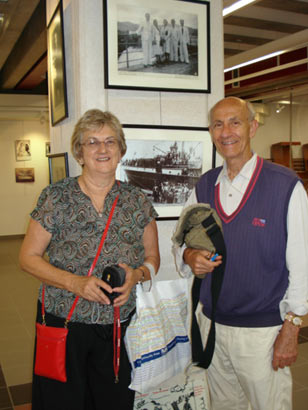 Mr. and Mrs. John Aboud visit the Lebanon and Migration Museum at NDU (Aug 2009)
At the end of their visit, Mr. and Mrs. Aboud praised LERC for its endeavors and expressed their willingness to donate material from their own family collections to both the LMM, and LERC archives in support of LERC's documentation of Lebanese migration.