Swiss journalist meets LERC Director Guita Hourani
Friday 17th July 2009, LERC, NDU
Reported by Elie Nabhan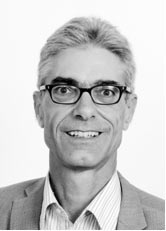 Journalist Jürg Bischoff
Mr. Jürg Bischoff, a prominent reporter, International Editorial, of the two hundred year old The New Zurich Daily, visited LERC to learn more about migration and its relevant issues as related to Lebanon.
LERC Director Ms. Guita Hourani met with Mr. Bishoff for an interview which covered many aspects of Lebanese migration as well as the mission of the Center and its museum.
Mr. Bischoff was introduced to the Lebanese Emigration Archives and Database by LERC Indexer Mrs. Liliane Haddad. Later, he was given a tour of the Lebanese and Migration Museum at NDU by Mr. Elie Nabhan.