Diaspora and Homeland Development: LERC signs cooperation agreement with Relief International
10th December 2008, LERC
Relief International, an international non-governmental organization with headquarters located in California, USA, signed a cooperation agreement with the Lebanese Emigration Research Center of NDU, whereby LERC, acting as a consulting agent to RI, is to provide for the EMLED project – Empowering Municipalities through Local Economic Development-- conceptualization, survey development, orientation, data analysis, and reporting on Lebanese emigrants who are potential investors or donors to partner with RI's efforts to promote economic growth opportunities in Lebanese villages. RI teams in the various villages would administer the survey and collect the information needed.
Funded by USAID, EMLED encompasses 116 municipalities in Northern and Southern Lebanon, while Naher El Bared Camp (NBC) will target 15 municipalities in the Akkar area to improve livelihoods of local citizens which were affected by the incidents of Naher El Bared.
Both projects have the primary goals of empowering municipalities to support local level economic development through public private partnerships, to increase employment opportunities and to promote effective, democratic collaboration between municipalities and communities and between the public-private sectors.
To seal this agreement, Mr. Imad Hamze, Chief of Party/Director of Relief International, Mr. Mahmoud El-Zein Program Manager, Mr. Ramy El Khoury Senior Field Officer, Mr. Ali Hijazi, Senior Credit Officer, and Ms. Nadine Saba Coordinator for the NBC at RI visited LERC and NDU and discussed with LERC team the details of the joint efforts. Both RI and LERC owe their collaboration to Mr. Hijazi, who has envisioned this cooperation and seen it through.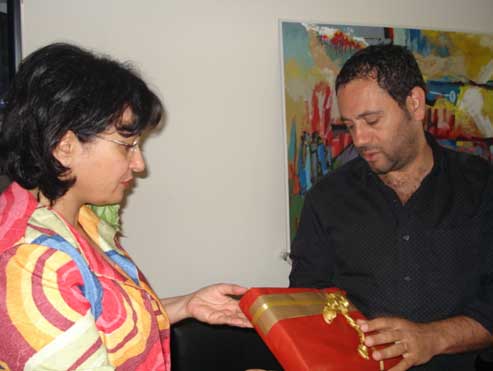 Ms.Guita Hourani, LERC Director presenting Mr. Imad Hamze RI Lebanon Chief of Party with a collection of LERC Publications (Aug 2008).
LERC's research and technical knowhow was solicited by RI for this vital project. LERC Director Guita Hourani see in this cooperation the achievement of one of the Center's objectives, that is capitalizing on the information and data being collected at the Center to assist Lebanon and its people.

Ms.Hourani and Ms. Abdel Khalek (far end) meeting with the R.I Team in the presence of Mr. Imad Hamze (left), Lebanon Chief of Party at R.I premises, Hamra, Beirut (Dec 2008)