Lebanese-Norwegian scholar delivers exhilarating talk on the Onomastic Approach to Language, Identity and Society
Wednesday 17th June 2009, LERC, NDU
Reported by Elie Nabhan
The Lebanese Emigration Research Center hosted a lecture titled Language, Identity, and Society: An Onomastic Approach by Dr. Elie Wardini at the Notre Dame University's Abu Khater Auditorium.
Those in attendance were representatives from the Royal Norwegian Embassy in Beirut including Counselor Mr. Martin Yttervik, NDU President Father Walid Moussa, NDU Vice-President for Research and Development, Dr. Assaad Eid, NDU Dean of Architecture, Art and Designs (FAAD), Mr. Habib Melki, NDU Professors Faculty and Staff, LERC's Director Ms. Guita Hourani, members of Dr. Wardini's family, members of the LERC team, and interested NDU students.
Dr. Elie Wardini, born in Bikfaya in the Metn district of Lebanon, is professor of Arabic and Semitic Languages as well as Head of Middle Eastern Studies, Department of Oriental Languages at the Stockholm University in Sweden. Dr. Wardini is the author of several publications, his most acclaimed being A Dictionary of Lebanese Place Names: Mount Lebanon and North Lebanon: English – English – Arabic.
Referring to Lebanese society where a name can last forever, Dr. Wardini explained Onomastics as the study of names, personal, local, and in general.
The ubiquitous Lebanese greeting "Hi, Kifak, Ça Va?" bringing together three different languages is now taken for granted. Behind this however lies a history of identity, a way of looking at language as it interacts within society.
This rich diversity in Lebanese society, with the use of three languages, Arabic, French and English, is evident in shop names for instance, in the names of restaurants or boutiques, in adverts on billboards, Latin alphabet being used in Arabic names and advertisements from burgers and beer to slogans used in the 2009 Parliamentary elections.
With this play on words, the meaning sometimes hits the point, sometimes the syntax is wrong, sometimes the right impression is given and sometimes the exact opposite. Usually it is a Classical Arabic word written in Latin within the Lebanese linguistic landscape.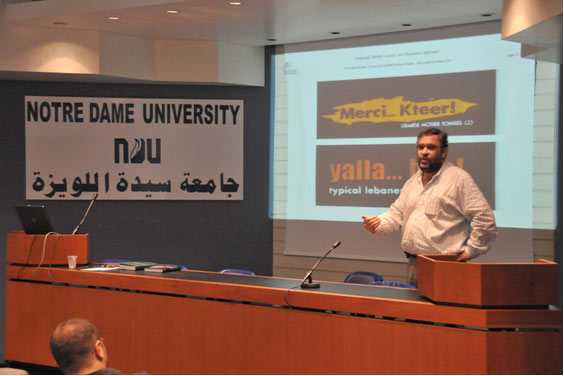 Dr. Wardini delivers his lecture on The Onomastic Approach to Language, Identity and Society at the NDU Auditorium (June 2009).
Using statistics gained from various regions in Lebanon, Dr. Wardini showed how the use of first names, for instance first names in Berkeyel, where the three most common first names represented 31% of the population, or in Zrarieh where the most common name was Mohammed, reflect an awareness and an attitude in Lebanon's linguistic landscape.
In context, Dr. Wardini explained how the use European names in Lebanon is gaining ground, Antoun becomes Tony, Elias becomes Elie, while first names in Arabic are losing favor.
Lebanon's names of places, where different variants of Lebanese Arabic are taken from different districts in Lebanon, tend to reveal their linguistic origins. For example Saida is the Aramaic translation of Sidon whereas Batroun has Phoenician roots. First names too reveal their origins, Tanios is Greek, Youssef comes from Hebrew.
The Arabic language itself, he went on to explain, can be described as the commonly spoken dialect, the modern standard Arabic, or the classical Arabic, each being regarded as a language in its own rights.
Likewise the Sri-Lankan community in Lebanon has also created their form of Arabic, a form of pidgin Arabic, in which language is used in Lebanon.
Religion too plays a role. Historically, scholars studied religious and biblical texts written in Hebrew. Others adapted the Hebrew alphabet as their own. The adoption of languages can be seen in the Maltese language, used commonly in Malta, that incorporates a North African type of Arabic mixed with a Latin alphabet.
The interaction between the use of language and identity within society where according to Dr. Wardini "Names are complex, composite, related to others and always changing", is an essential part of today's vibrant and diverse societies.
"Merci kteer"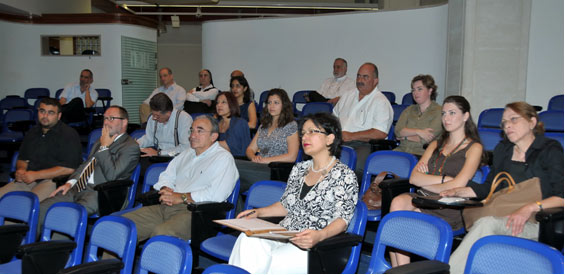 A section of the audience attending Dr. Wardini's lecture on The Onomastic Approach to Language, Identity and Society (June 2009).