Prominent Nigerian Artist Invited to Visit LERC
18th February 2008, LERC, NDU
By Elie Nabhan
The Lebanese Emigration Research Center has a vision. For the Lebanon and Migration Museum at NDU, it wants to promote the creation and collection of non-textual material pertaining to migration and Lebanon, including works of art.
With this in mind, Ms. Guita Hourani, LERC's Director, invited one of Africa's most recognized painters to express on canvass the subject of Lebanese migration to Nigeria, because, as the saying goes, a picture is worth a thousand words.
For LERC, the call for paintings is a joint venture being prepared together with the Faculty of Architecture, Art and Design (FAAD) at NDU. These paintings will aim at documenting in color the perceptions of Lebanese migrants in their host countries and the impressions these host countries have made on the lives of those Lebanese living abroad.
The painter himself, Mr. Kent Ideh, who studied at the famous Abyomi Barber School of Art in Nigeria, is one of the most prominent African artists, one whose paintings are housed at the Smithsonian in Washington, DC, among other museums. He is currently commissioned by renowned businessman Mr. Marcel Chaghoury to paint the Miracles of Christ to adorn the walls of the now famous holy shrine and church of Oum el Marahem (Our Lady of Compassion) in the North Lebanese City of Miziara. At the request of His Excellency, Hameed Opeloyeru, the Ambassador of Nigeria, Ideh is also preparing for a solo exhibition on Nigerian tradition in Beirut and Tripoli this coming summer.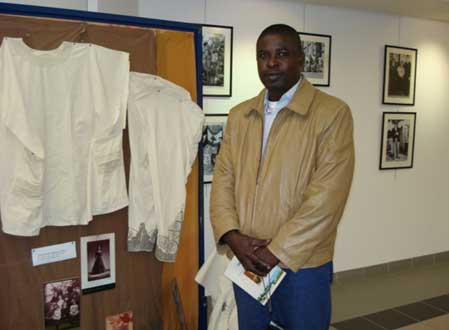 Nigerian artist Kent Ideh at the Lebanese and Migration Museum at NDU (Feb 2009)
Mr. Ideh's work vividly representing people and places in Nigeria, the startling clarity of his craft, his bold use of shades and colors, recognized worldwide, encouraged LERC to approach the artist, first amongst many, for him to participate.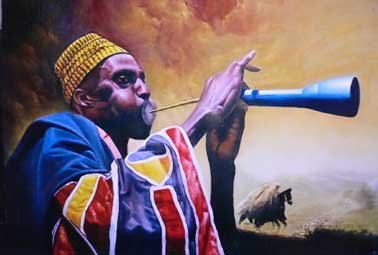 Kent Ideh's painting of a traditional Nigerian man calling out on a flute
For their upcoming joint venture, LERC and the FAAD have declared, "The main objective of the proposed event is to contribute to bringing the Lebanese Diaspora close to its land of origin through an artistic venue…"
The exhibition "aspires to establish the first art gallery on the Lebanese Diaspora at the Lebanon and Migration University Museum of Notre Dame University-Louaizé. Participating artists are encouraged to donate their paintings to the gallery." The paintings exhibited will then be featured in an elegant book.
The event hopes to bring together the work of artists who are Lebanese or of Lebanese descent, and even international artists, for an exhibition planned for December of 2009.