LERC gathers for celebratory evening meal
Friday 17th July 2009, Beirut
Reported by Elie Nabhan
Members of LERC, past and present, met together for an evening of fine dining at the Mossis restaurant just off the Raouche on Beirut's Corniche seafront.
Those present at the event brought together Ms. Guita Hourani, LERC Director, former LERC Adjunct Research Associate Professor Dr. Edward Allam and his wife Jinane, friend of LERC and NDU Professor Dr. Doumit Salameh, former LERC Research Assistant Marie-José Tayah, LERC past researcher Alexander Henley who was accompanied by his friend Nussaibah Younis, LERC Project Manager Ms. Basma Abdel Khalek who also organized the event, LERC Indexer, Rapporteur and Website Editor, Mr. Elie Nabhan, LERC's Senior Research Assistants Mr. Joe Malkoun and Mr. Rudy Sassine, LERC Research Assistant Sara el-Mokdad, LERC's current Interns Ms. Joelle Zlaket, Mr. Ali Ajrouch, Mr. Damien Naylor, and LERC past Interns Ms. Joelle Abi Chaker and Ms. Sarah Panossian.
In her speech, Ms. Hourani thanked all those present for attending, explaining that the event was to mark a welcome back for Alex Henley on his short visit back to Lebanon, to welcome in new interns Naylor, Ajrouch, and Zlaket, to thank Marie-Jose for all her past efforts with LERC, to celebrate Rudy Sassine's completion of fellowship in the United States, to bid farewell to Joelle Abi-Chaker, and to wish Sara Panossian the best in her new job in monitoring the elections of 2009 at the Lebanese Ministry of Interior.
The special sense of camaraderie and ambience unique to LERC was highlighted by the cheerful enjoyment of drinks and mezze by all present.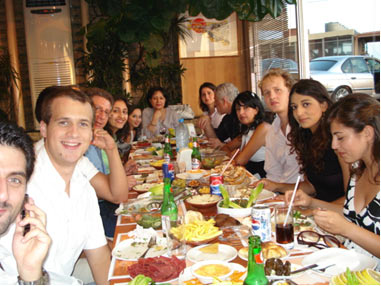 The evening starts off with members of the LERC team at the table (July 2009).

(From left to right) Joe Malkoun, Damian Naylor and Ali Ajrouch; all in high spirits (July 2009).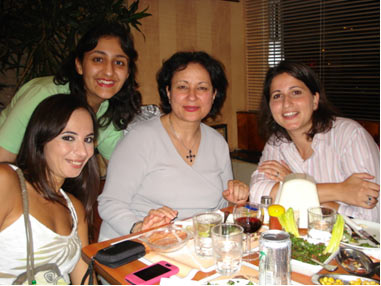 The ladies sitting (from left to right) Sara Makdad, Basma Abdel Khalek, Guita Hourani and Marie-José Tayah (July 2009).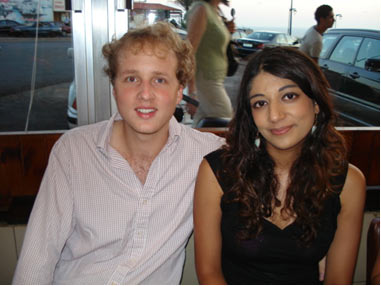 Former LERC Researcher Alex Henley with friend Nussaibah Younis (July 2009).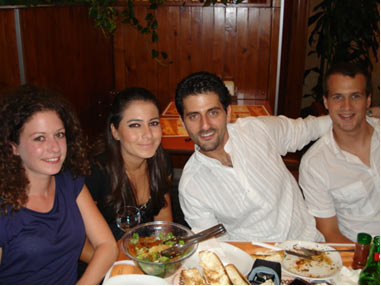 In the swing of things: (from left-right) past LERC interns Joelle Abi Chaker and Sara Panossian with Joe Malkoun and Damian Naylor (July 2009).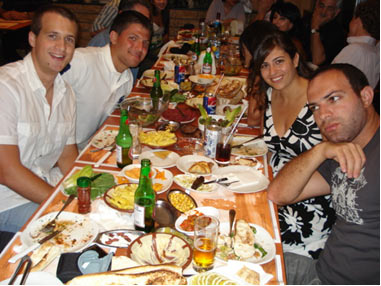 Damian Naylor and Ali Ajrouch (left) on camera with Joelle Zlaket as Rudy Sassine looks on (July 2009).



One for all and all for one: (back row from left to right) Alexander Henley, Basma Abdel Khalek, Joelle Zlaket, Ali Ajrouch, Marie-José Tayah, Elie Nabhan. (Front row from left to right): Rudy Sassine, Guita Hourani, Joe Malkoun, Damian Naylor and Sara Makdad (July 2009).