Associate Professor from Eastern Michigan University visits LERC
Wednesday 12th August 2009
Reported by Elie Nabhan
Dr. Kristine J. Ajrouch, Associate Professor at the Department of Sociology, Anthropology and Criminology at the Eastern Michigan University in Michigan, United States, paid a visit to the Lebanese Emigration Research Center to conduct research at the Center and to learn more about the Center's work and activities.
Professor Ajrouch is the mother of Mr. Ali Ajrouch, an intern at LERC for the summer 2009, who is researching material pertaining to acquisition and loss of citizenship in Lebanon.
Professor Ajrouch met with LERC Director Ms. Guita Hourani where discussions centered on Dr. Ajrouch's ongoing research work on the elderly parents of Lebanese migrants particularly those who are left behind and their social conditions and networks.
Following this, Professor Ajrouch was shown around the LERC premises and introduced to members of the LERC team. She was then given a presentation of the Lebanese Emigration Archives Database by LERC indexer Mrs. Liliane Haddad who guided her through some selected samples of the variety of materials collected by LERC. The visit was concluded by a tour of the Lebanon and Migration Museum at NDU with LERC member Mr. Elie Nabhan.
Dr. Ajrouch was full of gratitude to LERC saying, "LERC is a gem, housing extraordinary resources that aid those of us interested in learning more about Lebanese emigration and to make available the information needed to better understand the long history, as well as present day, migration of the Lebanese."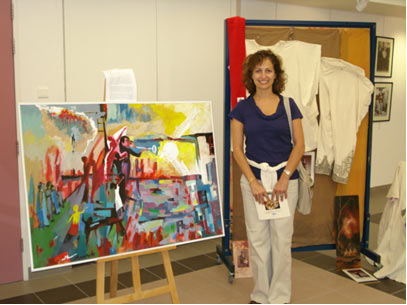 Dr. Kristine J. Ajrouch posing with the Evacuation painting at the Museum (Aug 2009).