LERC continues to develop its dialogue and relations with Japan
Wednesday 8th April 2009, LERC, NDU
Reported by Elie Nabhan
The relationship between the Tokyo University of Foreign Studies and the Lebanese Emigration Research Center has been nurtured and developed over the past four years.
Aiming to provide a firm foundation for academic exchange between Lebanon and Japan, Professor Hidemitsu Kuroki of the Japan Center for Middle Eastern Studies in Beirut,invited LERC Director, Guita Hourani, to present two papers in October 2007, at the Research Institute for Languages and Cultures of Asia andAfrica at the Tokyo University of Foreign Studies.
This came to fruition with the visits of several Japanese scholars to LERC to make use of its resources. Amongst them were Akimitsu Ikeda, a PhD Candidate and Affiliate Researcher at LERC in 2007, Dr. Aiko Nishikida and Dr. Takayuki Yoshimura.
To further cement this growing relationship, Professor Kuroki paid a courtesy visit on Wednesday 8th April 2009 to the Lebanese Emigration Research Center, where he was introduced to the Lebanese Emigration Archives and Database by Mrs. Liliane Haddad and was later taken on a guided tour to the Lebanon and Migration Museum at NDU by Mr. Elie Nabhan.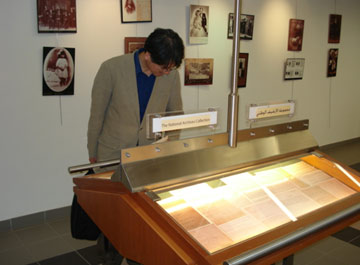 Dr. Kuroki examines a collection at the museum during his visit to LERC (Apr 2009).
Professor Kuroki then presented LERC with five books concerning Middle Eastern history and politics, with one publication specifically on the history of the Al-Jisr Family from Tripoli in Northern Lebanon. LERC reciprocated in kind by presenting Professor Kuroki with copies of its own publications
Both Professor Kuroki and Director Hourani discussed future research joint ventures between the two centers on issues related to migration. Dr. Kuroki was astounded by the quality and quantity of material available in LERC's electronic archive and commended LERC's team and NDU for this accomplishment.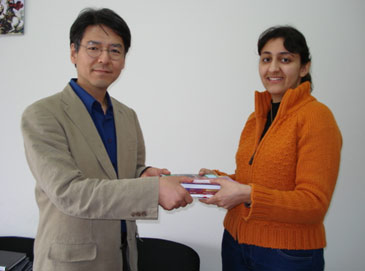 An exchange of publications between the two centers, Dr. Kuroki (left) with Ms. Abdul Khalek (Apr 2009).