The Lebanese Greek Orthodox Community in Australia: 1880 Onwards A Lecture at the Lebanese Emigration Research Center, Notre Dame University-Louaizé
Wednesday, 8th October 2008
Reported by Basma Abdul Khalek, Research Assistant, LERC/NDU
"The Migrants and Faithful of St. George's Orthodox Cathedral in Sydney, Australia from 1880 onwards" was the title of the lecture organized by the Lebanese Emigration Research Center (LERC) at Notre Dame University. This lecture was based on a book prepared by a committee made up of the parishioners of the Cathedral under the supervision of Mr. Emil Dan (Doumany).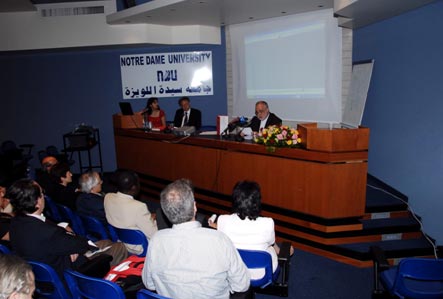 Father Boulos Wehbe addressing the audience in the presence of the lecturer Mr. Emil Dan and LERC Research Assistant Ms. Basma Abdul Khalek.
The Director of LERC Ms. Guita Hourani opened the event and welcomed the guests, among whom were H.E. Ms. Lyndall Sachs, the Ambassador of Australia, H.E. Mr. Hameed Opeloyeru, the Ambassador of Nigeria Ms. Sevane Chahine representing Honorable Haitham Jumaa, Director of the Directorate of Migrants at the Ministry of Foreign Affairs, Mr. Jad El Hage, writer and journalist, and NDU Vice President for Research and Development Dr. Assaad Eid, as well as NDU, LU and USJ professors and students, members of the Kandalaft and Melki families, and LERC friends.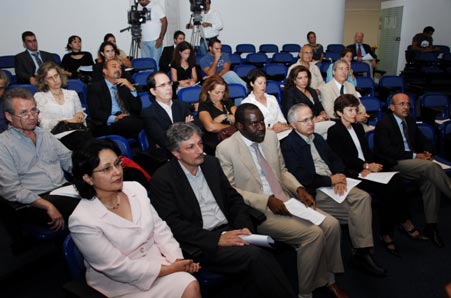 From left to right (1st row): Director Hourani, Professor R. Haddad, H.E. H. Opeloyeru Ambassador of Nigeria, Dr. N. Oueijan, H.E Ms. Lyndall Sachs Ambassador of Australia, and VPRD Dr. A. Eid, (2nd row) Dr. E. Sensenig, and Malik and Kandalaft family members (3rd row) Ms. Sevane Chahine representing Honorable Haitham Jumaa next to writer Jad El Hage.
First, the author and his book were introduced by Fr. Boulos Wehbe, Professor of Religion and Cultural and Social Studies at Notre Dame University. Fr. Wehbe is an Orthodox priest in the Archdiocese of Beirut, and is the Coordinator of the Joint Christian Education Committee in Lebanon. He has a weekly TV program at Télé-Lumière, and is involved in the Christian-Muslim Dialogue.
In his introduction, Fr. Wehbe focused on the fact that "the frame of the book is Orthodox but the scope is beyond that." He went on to say "It is the story of immigrants who became a 'church' and about the church which housed them in love." He added that "the authors only show themselves in small print in order to reveal the real author, who is the multitude of people who became the Cathedral." Fr. Wehbe praised the efforts exerted in the preparation and publishing of this historical reference.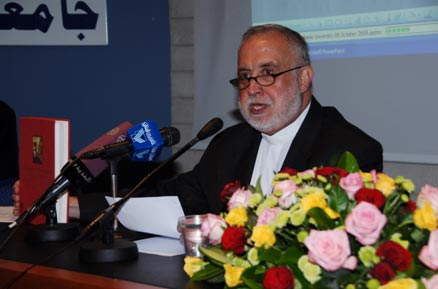 Father Boulos Wehbe introducing the author and the book.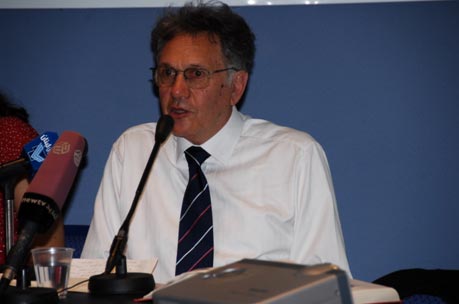 Mr. Emil Dan delivering his presentation.
Fr. Wehbe then introduced the lecturer Emil Dan, who is the grandson of Amin Doumany who migrated to Australia in the 1880's from Zahle. His mother was the daughter of the theologian Ghattas Kandalaft from North Lebanon. Mr. Emil Dan was born in Gloucester, Australia, in 1940 and married Voulette Malik, who was as well a descendent of Lebanese migrants. He studied at Sydney University, where he graduated with a degree in Pharmaceutical Studies, and then specialized in Asthma and Allergy pharmaceutical products to become CEO of the Asthma and Respiratory Educators Association. After his last visit to Lebanon in 1964, he was appointed to St. George Parish Council in Sydney, and was then Founding President of its Youth organization. In 1999, he became President of the Cathedral Council. He is the co-author, editor and project director of St. George Cathedral and its People: Past, Present and Future.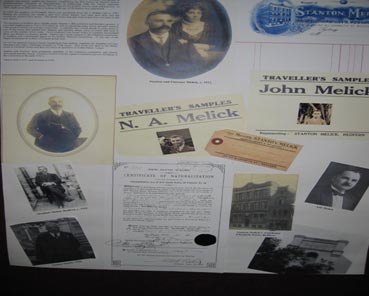 Families were asked to present a poster with their history, photos and documents. This is a sample of the Melick (Malik Family).
The lecture was an occasion for presenting the methodology undertaken by the committee during the preparation for this book and the results of the research published in the 414 pages. Mr. Dan stated that "this book commemorates the pioneer Lebanese emigrants and their descendants." He added that "More than 160 families have contributed to this publication by making posters and sending information, records, photos and documents on their migration history. Many of these families, over four waves of migration, have become famous in Australia, such the Abdul-Karims, Bashirs, Batrouneys, Corbans, Deeps, Doumanis (Dans), Jammals, Jarjouras, Kandalafts, Khourys, McDessies, Maliks, Mansours, Mikhails, Maloufs, Sarrofs, Shehadies, Yarads, Attalahs, Abi-Hannas, Abouds, and Ayoubs.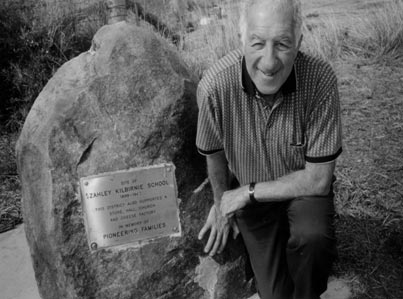 Lebanese emigrants from Zahlé built a township in the Haden Goombungee area and called it Zahley, now known as Kilbirnie.
Mr. Dan talked about how the Lebanese Orthodox emigrants set up businesses and industries and participated in the construction of the St. George Cathedral in Sydney, where they used to gather occasionally for social, religious and family events. The lecturer focused on the involvement of some family members in WWI and II, on the role of the youth and the scouts of the Cathedral, and on the women's commitment for social and spiritual activities. He also emphasized that some prominent Lebanese had become famous in Australia, such as H. E. Dr. Marie Bashir, the Governor of New South Wales and her husband Sir Nicolas Shehadie, Lord Mayor of Sydney (1973-1975), Sam Doumany, former Attorney General and Minister for Justice in Queensland, renowned Professor Noel Dan, Professor Trevor Batrouney, businessmen Raymond Hallit and his brothers, and Nassim Farah among many others.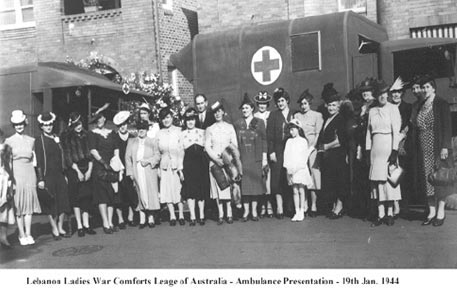 Mr. Dan said that the book has a section dedicated to the history of the Cathedral, its icons, and the priests who served it and participated in its development.
During the Q and A period, H.E. Ms. Sachs, Ambassador of Australia, praised the work and stressed the fact that Australia is a multicultural country that respects and encourages immigrants to maintain their proper culture, but at the same time expects them to become part of the culture in Australia. In addition, H.E. Mr. Opeloyeru, Ambassador of Nigeria, asked about the links that Lebanese migrants were keeping up with their homeland. The author clarified that links with Lebanon were principally maintained through marriage between members of Lebanese families in Australia.
One of the highlights of Mr. Dan's presentation was a poem by Chafic Ataya entitled "The Hills of Lebanon", which includes the following moving lines:
...
The hills of Lebanon are crying out...
they speak of home, my father's home! How shall I
though leave my heart behind lost on these austral
shores and go
when I solemnly know deep down
my Lebanon's gone and is no more my home?
Let me now remain on these blessed shores
And seek refuge in you, my empty shell!
You are either my heaven or my hell!

A souvenir picture from left to right: Ms. Hourani, H.E. Mr. Opeloyeru, H.E. Ms. Sachs, Mr. Dan, Mrs. Dan, Fr. Wehbe, and Dr. Eid.