Migration German Scholars Pay Visit to LERC
Wednesday 22nd April 2009, LERC, NDU
Reported by Elie Nabhan
Mr. Andreas Wischnat, a Research Affiliate at the Lebanese Emigration Research Center, accompanied his professor Anton J. Escher, who is a university lecturer in Human Geography at the University of Mainz and director of the Center for Intercultural Studies (ZIS), on a visit to the Lebanese Emigration Research Center at NDU.
Dr. Escher specializes in global migration networks, the construction of ethnic identity and transnational communities with a regional focus on "The diffusion and function of global Arab Networks with a main link to the Near East".
Dr. Escher studied the ethnic identity of Arab colonies namely in Venezuela, USA, Canada, Argentina, and Brazil, where he visited the communities of Lebanese and Syrian emigrants and identified key elements which support the construction of an ethnic identity by families.
With regard to such interests, Dr. Escher made his visit to LERC an important part of his trip to Lebanon in order to explore the possibility of conducting further research on the Lebanese diaspora and particularly on the cultural aspect of their migration.
Director Hourani and Dr. Eugene Sensenig-Dabbous provided Dr. Escher with information about LERC research infrastructure, services and affiliation process. Dr. Escher and Mr. Wischnat were later introduced by Mrs. Liliane Haddad to the electronic migration – related collection in the Lebanese Emigration Archives and Database and completed their visit with a tour of the Lebanon and Migration Museum at NDU which was provided by Mr. Elie Nabhan.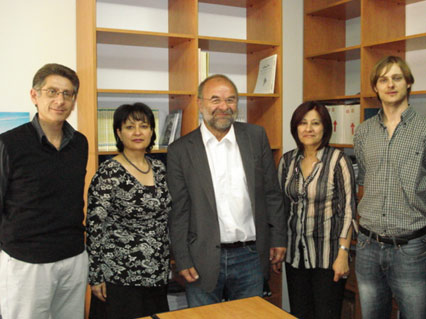 Prof A. Escher flanked by (from left-right) Mr. Nabhan, Ms. Hourani, Mrs. Haddad and Mr. Wischnat (Apr 2009).