The Lebanese Feminist Association of Uruguay and the Youth Group 1986 Visit LERC
Wednesday April 15, 2009, LERC, NDU
Reported by Basma Abdul Khalek
LERC Project Coordinator
In the context of continuous cooperation with the Latin American countries, the Lebanese Feminist Association of Uruguay (Associacion Libanesa Feminina del Uruguay) and the Lebanese Youth Group 1986 (Grupo 1986), paid a visit to the Lebanese Emigration Research Center at Notre Dame University. The visit was scheduled due to efforts of the Embassy of Uruguay in Lebanon and in coordination with LERC Liaison Officer for Latin America Mr. Roberto Khatlab.
The visitors were Donna Nelly Abi Rizk, President of the Lebanese Feminist Association of Uruguay, Sylvia Gulpio Lain (origin Abdel Hay), President of the Lebanese Youth Group of 1986, and Father Emmanuel Younes, who was the Pastor of the Lady of Lebanon Parish of the Maronite Order of Virgin Mary in Uruguay. The visitors met with LERC Director Ms. Guita Hourani in the presence of Mr. Roberto Khatlab. Were also present at the meeting Ms. Liliane Haddad, LERC Indexer, and Ms. Basma Abdul Khalek, LERC Project Coordinator, who were later joined by Father Kamal Semaan, Head of Monastery of Mar Lichaa in Bcharre, North Lebanon.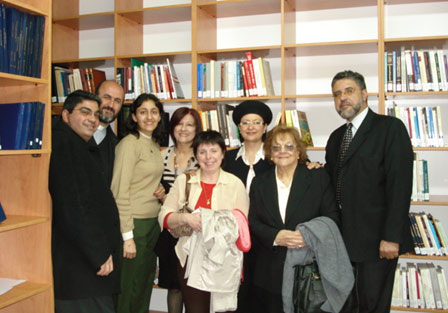 A souvenir picture from L to R: Fr. Younes, Fr. Semaan , Ms. Abdul Khalek, Ms. Haddad, Ms. Gulpio Lain, Ms. Hourani, Ms. Abi Rizk, and Mr. Khatlab (April 2009).
The visit was an occasion to present the history and the activities of the Association in Uruguay which was founded in 1915. Maria Maltash, mother of Nelly Abi Rizk, and daughter of Gerges Bechara Maltach, who migrated to Uruguay in 1886, was one of the founders. The purpose of the Association was to help and assist Lebanese families who came from Lebanon during World War I and settled in Uruguay. The Association is still active as a non-profit organization and continues to provide social and health assistance to Lebanese and non-Lebanese families. Then, Ms. Gulpio Lain introduced the activities of the Youth Group 1986, which was established following the Youth Congress of Lebanese Descent in Montevideo in 1986. The Group gathers together people aged between 35 and 55 years old to coordinate youth activities and share experiences between Lebanese in Uruguay, and with Lebanese in other countries.
The visitors were introduced to LERC activities and achievements in the field of research and documentation on Lebanese migration and taken on a tour of LERC premises. They were also given a presentation showing the electronic collections of the Lebanese Emigration Archive and Database.