LERC Latin America Liaison Officer participates in the Arab Community's National Day in Rio de Janeiro, Brazil
Wednesday 25th March 2009
Reported by Basma Abdul Khalek, LERC Project Coordinator,
and Roberto Khatlab, LERC Latin America Liaison Officer
March 25th 2009 marked the Arab Community's National Day, in the city of Marica, Rio de Janeiro, Brazil. LERC Latin America Liaison Officer Mr. Roberto Khatlab participated in this celebration.
March 25th was chosen to celebrate the Arab community in Marica because it commemorated the date of the promulgation of the Brazilian Constitution in 1824. March 25th was also chosen to reflect the famous commercial street in Sao Paulo called "Rua 25 de Março". This street Rua 25 de Março, is also known also as the Arabs' Street "Rua dos Árabes". Fifty percent of the street's commercial establishments were Arab owned. According to old stories, the first shop in this street was opened in 1887 by the Lebanese immigrant Benjamin Jafet (Yafet). Nowadays, The 25th of March Street is the biggest open air market in Sao Paulo.
On this occasion, various cultural activities were organized. Mr. Khatlab gave a presentation about LERC's objectives, current activities and future projects related to Lebanese emigration.
Mr. Khatlab was awarded an accomplishment award by the Legislative Chamber of Marica, presented to him by Mr. Ronny Pereira Azevedom, for his studies and publications on the Lebanese emigration to Brazil.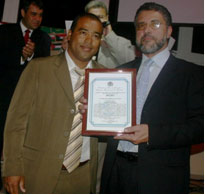 Mr. Roberto Khatlab holding the Diploma (March 2009).
Mr. Khatlab presented the Mayor of Marica, Mr. Washington Luiz Cardoso Siqueira, with his book entitled Mahjar that relates the Lebanese experience in Brazil.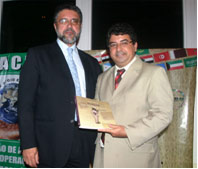 Mr. Khatlab posing with Mr. Cardoso Siqueira (March 2009).