Professor Diava Stasiulis of Carleton University, Ottawa, Canada Visits LERC
11 August 2008

Professor Diava Stasiulis, an expert on international migration, citizenship studies, gender and discrimination at Carleton University, Ottawa, Canada, paid a visit to the Lebanese Emigration Research Center where she met LERC Director Ms. Guita Hourani. Professor Stasiulis was accompanied by her Research Assistant Ms. Louisa Romanos. Ms. Romanos was instrumental in introducing Professor Stasiulis to LERC following the attendance of the former at one of Ms. Hourani's lectures in Australia.
Professor Stasiulis is conducting a research project on dual citizens of Lebanese descent entitled Dual Nationality among Lebanese Canadians, Lebanese Australians and other Dual Nationals of Lebanese Descent whereby she will examine the Lebanese case of dual citizenship. This project is a sub-project funded by the Social Sciences and Humanities Research Council of Canada (SSHRCC) of a larger project on Border Crossings and Multiple Citizenship.
For her project, Professor Stasiulis is interested in locating dual citizens who were in Lebanon during the Israeli-Lebanese War 2006 - whether they stayed in Lebanon, were evacuated by their country of other citizenship or left by other means. She is also interested in finding those who left and then returned.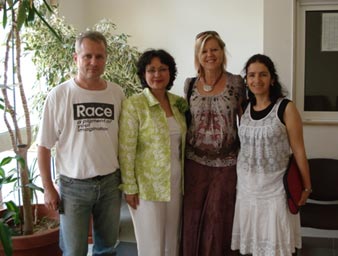 From left to right: Dr. Sensenig-Dabbou, Drirector Hourani, Dr. Stasiulis and Ms. Romanous (August 2008)
Professor Stasiulis was impressed with LERC premises and was presented with a copy of LERC's publication The Impact of the Summer 2006 War on Migration in Lebanon: Emigration, Remigration, Evacuation and Return, authored by LERC Director, to provide vital information for her work. Use of LERC's extensive collection of materials, its archives and database, was also offered so as to assist in any of her research. Professor Stasiulis offered to reciprocate in any way she could.
Professor Stasiulis has published extensively on these issues in leading journals and books. Her most recent book is Negotiating Citizenship: Migrant Women Workers in Canada and the Global System.