LERC Participates in the Pecha Kucha Night: Entrepreneurship, Innovation and Design
Thursday 20th November 2008, Beirut
Reported by LERC Staff
The Lebanese Emigration Research Center (LERC) at Notre Dame University, Louaizé participated, in the person of Research Assistant Ms. Basma Abdul Khalek, in the third edition of Pecha Kucha Night: Entrepreneurship, Innovation and Design, which was held in Beirut on November 20, 2008. The event was organized as part of the Global Entrepreneurship Week in Lebanon November 17-23, 2008.
In order to participate in this event, the participating individuals or organizations had to a) address a critical challenge that Lebanon is facing; and b) to propose interventions to tackle this problem. At the invitation of the organizers, LERC prepared a power point presentation entitled "Socio-economic Development for Lebanon: Engaging the Lebanese Diaspora to Think Globally and Act Locally" in which it addressed the problem of socio-economic development in remote villages in Lebanon and showed how its databases could be used to stimulate the participation of migrants in addressing the problem.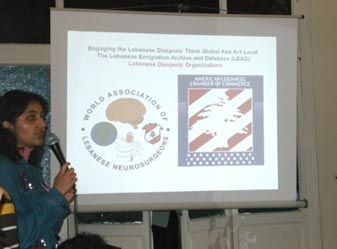 Ms. Abdul Khalek presenting at Pecha Kucha Night, Beirut (Nov 2008)
Following her brief introduction of LERC's objectives, Ms. Abdul Khalek, who presented the lecture on behalf of LERC, showed how the Center is actually orienting part of its research efforts to identify Lebanese diasporic businesses, organizations, institutions, associations, clubs, as well as businessmen, entrepreneurs, philanthropists, and the like who could be potential partners in the socio-economic development efforts.