Australian-Lebanese Researcher pays visit to LERC
Tuesday August 8th 2009, LERC, NDU
Reported by Elie Nabhan
Dr. Youssef Taouk, a Lebanese-Australian and Associate Researcher at the Institute for Advancing Community Engagement (IACE) at the Australian Catholic University (ACU) paid a visit to the Lebanese Emigration Research Center at NDU to meet up again with LERC Director Ms. Guita Hourani and be introduced to the Center.
Dr. Taouk had previously met Ms. Hourani at the First Maronite Youth Forum held in Sydney in July of 2008 and is interested in further research of certain aspects of Lebanese migration.
His discussions with Ms. Hourani centered on bringing closure to the research project that accompanied the Maronite Youth Forum of 2008 and the role that NDU and LERC could play in this endeavor and in future projects related to the Lebanese in Australia.
After the meeting, Dr. Youssef Taouk was shown around the LERC premises and introduced to its staff. He was then given a presentation of the Lebanese Emigration Archives Database by LERC Indexer Ms. Liliane Haddad. His visit was concluded with a tour of the Lebanon and Migration Museum at NDU.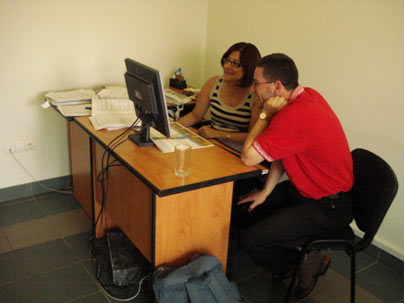 Mrs. L. Haddad gives a presentation of LERC's electronic archives to Dr. Y. Taouk (Aug 2009).
Dr. Taouk left LERC with an indelible impression of both LEAD and the museum saying that "its collection is a treasure trove that will be useful to any researcher…it is a researcher's dream". He also stated his interest in returning to LERC for further research.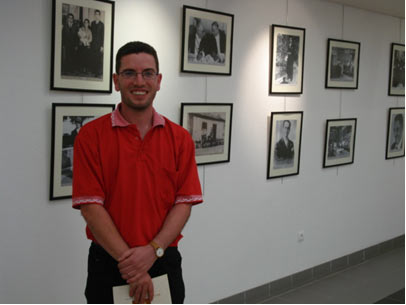 Dr. Youssef Taouk delighted to be at the Museum (Aug 2009).