LERC bids farewell to departing Nigerian Ambassador
Wednesday 17th June 2009, Coral Beach Hotel, Beirut
Reported by Elie Nabhan
The Lebanese Emigration Research Center attended a send-forth reception in honor of H. E. Hameed A. Opeloyeru, the outgoing Ambassador of Nigeria, held at the Coral Beach Hotel in Beirut.
The Ambassador commenced his tour of duty in Lebanon in May 2007, ending it in June 2009. The Ambassador will be assuming duties as the Assistant Secretary General representing Africa in the Organization of the Islamic Conference (OIC) in Jeddah, Saudi Arabia in July 2009. Mr. Anthony Bosah will be serving as Chargé d'Affairs at the Nigerian Embassy pending the appointment of a new Ambassador.
The highly respected and popular Ambassador was instrumental in promoting Nigerian- Lebanese relations. Under his guidance the Nigerian Lebanese Friendship Association (LENIFRA) was created, bringing together members of the Nigerian-Lebanese community. It was the will of the Ambassador to use LENIFRA to promote greater social, cultural, and business awareness about Nigeria in Lebanon.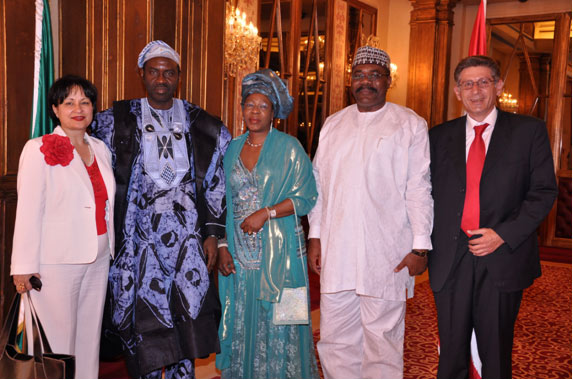 At the send-forth reception (from left to right) Ms. Guita.Hourani, H.E Hameed Opeloyeru and Wife, Mr. Anthony Bosah and Mr. Elie Nabhan (June 2009).
The success of LENIFRA enabled the Ambassador to organize the Nigeria week in 2008 and the visit of the Nigerian Trade Delegation to Lebanon intended to help the Nigerian business and executive communities interact with their Lebanese counterparts. The Trade Delegation consisted of the Nigerian Association of the Chambers of Commerce, Industry, Mines and Agriculture (NACCIMA) accompanied by representatives of the Ministries of Trade and Foreign Affairs arrived in Lebanon seeking to improve commercial and industrial ties. LERC was the only institute invited to attend the event.
His Excellency Opeloyeru and LERC cooperated on several academic and cultural occasions, the last of which was the event at which NDU and LERC honored Honorable Mohammad–Ali Fadlallah, Honorary Consul of Lebanon in Kano for his service to the community.
Although His Excellency will be greatly missed, his energy and support will be long remembered and LERC wishes His Excellency and his family great success in their new assignment.