LERC Attends Nigeria's Independence Day Celebrations
Thursday 1st October 2009, Riviera Hotel, Beirut
Reported by Elie Nabhan
On the occasion of the 49th anniversary of Nigeria's Independence, the Lebanese Emigration Research Center's Director Ms. Guita and LERC staff member Mr. Elie Nabhan joined with various dignitaries and personalities, heads of diplomatic and consular missions and international organizations accredited to Lebanon, members of the Nigerian-Lebanese community and Nigerians living in Lebanon, to celebrate Nigeria's Independence Day at a cocktail reception held at the Riviera Hotel in Beirut.
The Lebanese-Nigerian Friendship Association, of which LERC is a member, and with which many activities have been jointly held, was represented by Mr. Essam Fayez Makarem (Chairman), Mr. Hani Saffieddine (Vice-Chairman) and Mr. George Nabhan (Treasurer).
LERC is a member of LENIFRA, and many activities have been held together. These included LERC's participation in the Nigeria week in 2008, the visit of the Nigerian Trade Delegation to Lebanon intended to help the Nigerian business and executive communities interact with their Lebanese counterparts and LERC's hosting a research affiliate Dr. Peter Adebayo from the University of Ilorin.
LERC has cooperated with LENIFRA on several academic and cultural occasions, the last of which was the event at which NDU and LERC honored Honorable Mohammad–Ali Fadlallah, Honorary Consul of Lebanon in Kano, for his service to the community.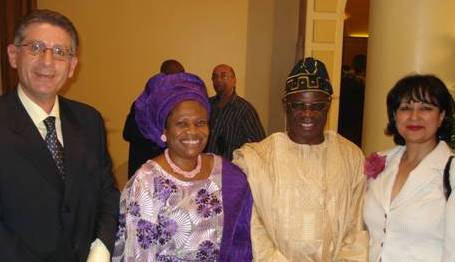 Nigeria's new Chargé d'Affaires, Mrs. A. Ayodeji and her husband retired Ambassador H.E. Okun Ayodeji (middle), with LERC Director Ms. Guita Hourani (right) and Mr. Elie Nabhan. (Oct. 2009).
The event unfolded on two fronts. First were the celebrations themselves and second the welcome and general introduction to all, the Nigerian Embassy's new Chargé d'Affaires. Mrs. A. A. Sonaike Ayodeji will take charge of the Embassy pending the appointment of a new Nigerian Ambassador to Lebanon, when she will then revert to Minister, Head of Chancery at the Nigerian Embassy.
The outgoing Minister, Head of Chancery at the Embassy, Mr. Anthony Bosah, in his anniversary address, acknowledged the presence of H.E Mr. Fawzi Salloukh, distinguished representative of Lebanese President Michel Suleiman, the Honorable Elie Aoun, distinguished representative of Lebanese Speaker Nabih Berri, and the Honorable Nassif Kaloushi, Governor of Beirut and the North, distinguished representative of the Lebanese Prime Minister Fouad Siniora.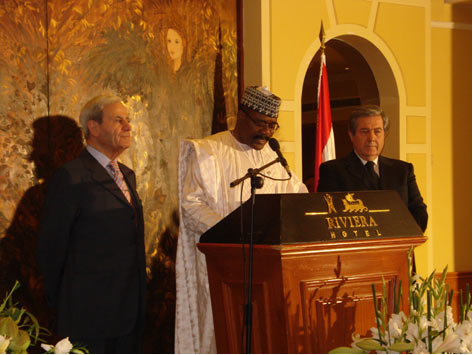 Out-going Chargé d' Affaires Mr. Anthony Bosah delivers his speech at the podium flanked by H.E. Fawzi Salloukh (left) and Mr. Nassif Kaloushi
Mr. Bosah's speech pointed out Nigeria's achievements over the last couple of years in the nation's economy that "will enhance the capacity of Nigerians to live healthy, productive and prosperous lives." This includes the agricultural sector where irrigated land provided by the government to Nigerian farmers has allowed for all-year-round produce, land reforms to boost agricultural production, peace initiatives in the troubled Niger Delta and the establishment of a Ministry to meet the challenges there.
Nigeria and Lebanon, he said, have continued to actively pursue trade and commercial relations, dating back to over a century, and to build on the cordial socio-economic relations existing between the two countries.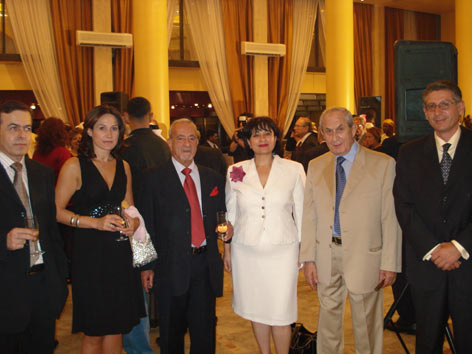 Guests and friends: (from left to right): Dr. Abdo Younis, Ms. Samar Gemayel, LENIFRA Treasurer Mr. George Nabhan, LERC Director Ms. Guita Hourani, Former LENIFRA Chairman, Chief William Zard Abou-Jaoude,and Mr. Elie Nabhan (Oct 2009).
The anniversary cake was then cut, which was followed by warm congratulations from all. The guests continued to mingle, many of them old friends and returning emigrants from Nigeria.