Lebanese Brazilian translator visits LERC
Tuesday 28th July 2009, LERC, NDU
Reported by Elie Nabhan
Lebanese-Brazilian, translator and owner of Jet-Set Language Schools in Campinas, Sao Paulo, Mr. Alain Merhy, paid a visit to the Lebanese Emigration Research Center and was introduced to its staff and research infrastructure.
LERC Director Ms. Guita Hourani met with Mr. Merhy and explained the objectives of the Center. Mr. Merhy promised to strengthen ties between his city, Campinas, and LERC.
Campinas has a Lebanese community of around fifty thousand people and a Lebanese Club of which Mr. Merhy is the President.
With this in mind, Mr. Merhy said he would promote LERC among the people of Campinas, inform them of LERC and its activities and collect textual and audio-visual material to send it to LERC's archive and museum.
Mr. Merhy was then introduced to the Lebanese Emigration Archives and Database, and shown the operations and collections of the Center's electronic archives by LERC indexer Mrs. Liliane Haddad. This was followed by a tour of the Lebanon and Migration Museum at NDU given by Mr. Elie Nabhan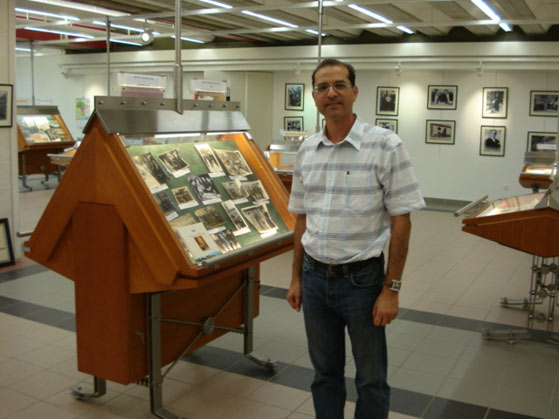 Mr. A. Merhy visiting the Lebanon and Migration Museum at NDU (July 2009).