Anniversary of the Maronite Worldwide Foundation
Saturday 10th October 2009
Mashmoucheh, Jezzine, Lebanon
Reported by LERC Staff
The Maronite Worldwide Foundation (MWF) celebrated its first anniversary at Our Lady's Monastery in Mashmoucheh near Jezzine in South Lebanon. The event was under the patronage of the President of the Lebanese Republic H.E. Michel Suleiman represented by Mr. Ziad Baroud, Minister of Interior.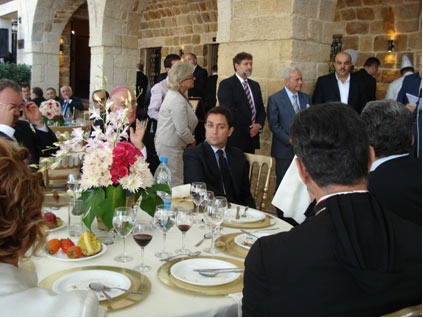 H.E. Minister Baroud at the ceremony. (Oct 2009).
Also present at the ceremony were Mr. Antoine Karam, Minister of Environment, MPs Neamattalah Abi Nasr and Ziad Assouad, former MP Samir Azar, Mr. Daoud El Sayegh representing PM designate Mr. Saad Hariri, Ms. Hiyam Boustani, General Secretary of the MWF, Father Bassile Hashem, Superior of the Monastery Notre Dame of Mashmoucheh, Abbot Boulos Naaman, Mr. and Mrs. Eid and Haifa Shedrawi, Mr. and Mrs. Nemat Frem, Mr. and Mrs. Charles Hage, Fr. Walid Moussa, President of Notre Dame University-Louaizé, and Ms. Guita Hourani, Director of the Lebanese Emigration Research Center, as well as other personalities.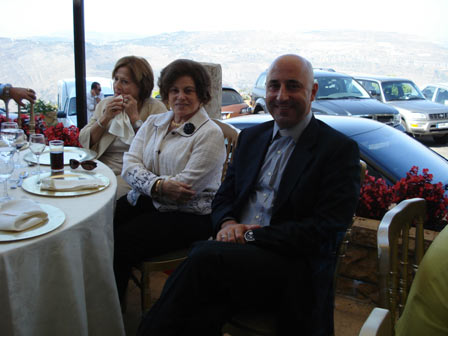 NDU President Fr. Walid Moussa during the ceremony. (Oct 2009).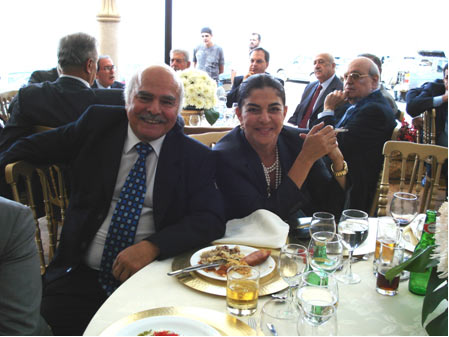 Mr. and Mrs. Eid and Haifa Shedrawi. (Oct 2009).
The event began with a solemn High Mass celebrated by Patriarchal Vicar Bishop Roland Abou Jaoude representing His Beatitude Maronite Patriarch Nasrallah Peter Sfeir. In his sermon, Msgr. Abou Jaoude talked about Mr. Eddeh's attachment to Lebanon and noted the fact that Lebanon is the mother land of all its citizens. He also noted the joint efforts made between Mr. Eddeh and Bkerke in establishing the MWF to link the Maronite expatriates abroad with their counterparts in Lebanon.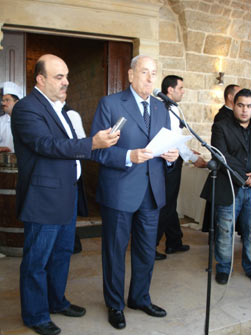 Mr. Eddeh delivering his speech (Oct 2009).
After Mass, Mr. Eddeh addressed the assembly. He stated that the Christian emigration began towards the end of the nineteenth century caused mainly by the political instability in the country and was then further encouraged by socio-economic problems. He added that Christians, and especially the Maronites, more so than their Muslim compatriots, integrated easily in the receiving countries due to their knowledge of language and their common faith with the people of the receiving countries.
Mr. Eddeh stressed the importance of the Lebanese of the diaspora regaining their Lebanese citizenship, which they had previously sacrificed in order to gain that of their host country, as in those days dual citizenship was not permitted.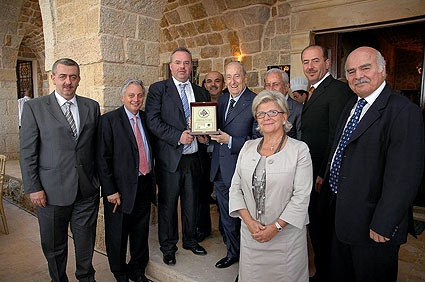 Mr. Eddeh holding the Acknowledgment Award surrounded by the MWF officers Mr. Charles Hage, Mr. Antonio Andary, Mr. Eid Shadrawi, Mrs. Hiyam Boustani, and Mr. Youssef El Doueihy. (Photo from L'Orient le Jour, Oct 2009).
At the end of the event Mr. Eddeh was recognized by the Foundation and its sponsors for having the vision to foresee the need for such a Foundation and the will to make it happen.