LERC participates at the Cuban Cultural Festival
Saturday, Aug 3 2009, UNESCO Palace, Beirut
Reported by Damian Naylor, LERC Intern
On Saturday 3rd of August 2009, members of the Lebanese Emigration Research Center (LERC) at Notre Dame University-Louaize attended the Cuban Cultural event held at the UNESCO Palace in Beirut. Present from LERC were interns Joelle Zlaket, Sara Panossian, Joe Malkoun, Elie Geagea, and Damian Naylor. Upon arrival, the members were introduced to the director of cultural affairs for the Cuban Embassy, H.E. Mrs. Maria Isabel Velasquez, wife of the Cuban Ambassador H.E. Mr. Dario de Urra.
The program, which featured Cuban music performed by a band from Havana, started in the late afternoon and continued into the evening as people enjoyed the festivities.
The program began in the auditorium with a speech by the Cuban Ambassador welcoming all to the day's events. His speech was followed by a film about the history of Palestinian cinema in Cuba which featured footage from as early back as the Cuban Revolution, followed by a band from Havana performing Cuban music. The band put on an energetic performance and it was clear the audience enjoyed it. Many of those in the audience even made their way to the stage to dance and sing along with the band.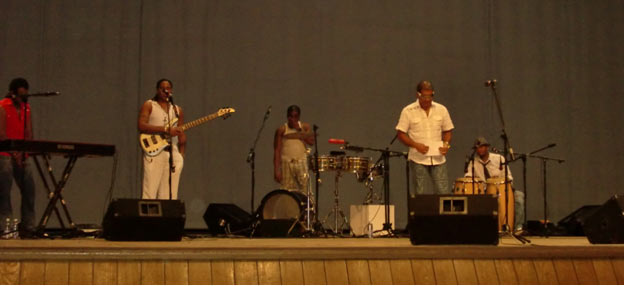 Band from Havana performs at the UNESCO auditorium (August 2009)
Outside of the auditorium there was a make-shift restaurant where Cuban food was served, along with mojitos and other drinks. On the first floor was also a cigar-rolling demonstration with many cigar enthusiasts showing their skills and their love of fine Cuban cigars. From the attendance of the program, it was clear that the day was a huge success and LERC was glad to be a part of it.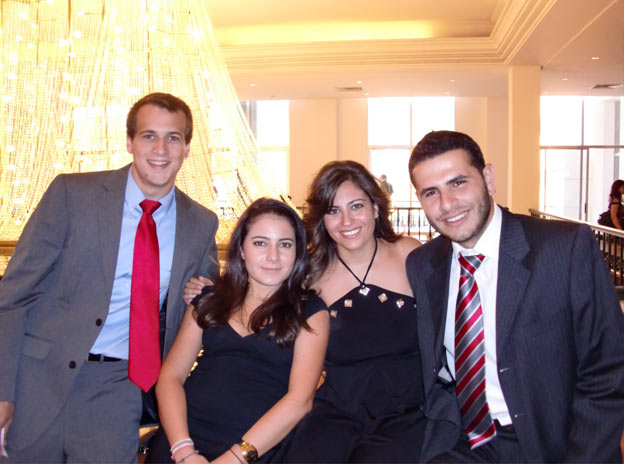 LERC members (left to right) Damian Naylor, Sara Panossian, Joelle Zlaket, and Elie Geagea (August 2009).