LERC continues it efforts to enlarge its collection
Friday 13th March 2009, LERC, NDU
Two visitors with an ongoing interest in migration, Ms. Lina Hourani and Mr. Ali Kaafarani, visited the LERC premises, where they met with LERC's Director Ms. Guita Hourani and members of the LERC Team.
This was made possible thanks to the personal efforts of Mr. Rudy Sassine, Senior Research Assistant at LERC, who searched for, found and contacted Ms. Hourani, a recent graduate and holder of a Diploma in Higher Studies in Social Sciences, and was able to arrange for her visit to the Center.
Both visitors met with Ms. G. Hourani who explained about the work, scope and goals of LERC, especially when pertaining to the field of social sciences. In turn, Ms. Lina Hourani presented to LERC two copies of her thesis completed in 2005 entitled Remittances, Choices for Bazi Family, Lebanese Immigrants from Bint Jbeil.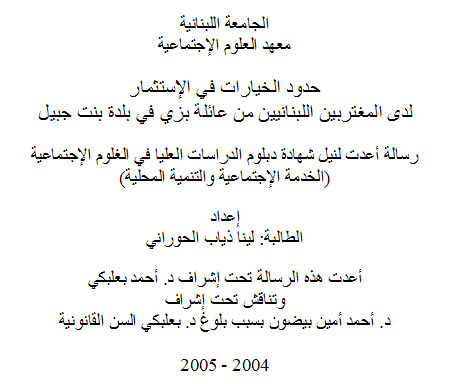 The two visitors were then introduced to LERC's premises and personnel and taken on a guided tour of the Lebanon and Migration Museum at NDU by Elie Nabhan. They were then shown the Lebanese Emigration Archives and Database (LEAD) by LERC indexer Mrs. Liliane Haddad.
On bidding farewell, a clearly impressed Ms. Lina Hourani and Mr. Kaafarani wished LERC the best of luck in all its endeavors.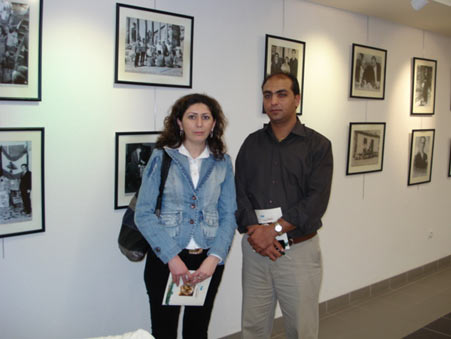 Ms. Lina Hourani (left) with Mr. Ali Kaafarani pictured at the Museum on their visit to LERC (Mar 2009).