LERC holds lecture on Citizenship in the Arab World
25th March 2009, LERC, NDU
By Sara Panossian and Elie Nabhan
Dr Gianluca P. Parolin, author of the most recent book entitled Citizenship in the Arab World: Kin, Religion and Nation State, gave a riveting lecture at Notre Dame University-Louaizé. Dr. Parolin was introduced by Dr. Kamal Abouchedid Professor and Director for the Center for Applied Research in Education at NDU. Dr. Abouchedid said that he was proud to introduce Dr. Parolin and praised his work calling it colossal, since the author compared the citizenship laws of twelve Arabic speaking countries in their original language, i.e. in Arabic. Fluent in at least five languages, Dr. Parolin, said Abouchedid, presented a scholarly achievement.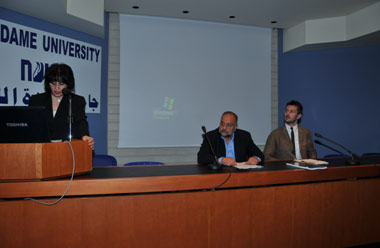 (From L-R) Ms .G .Hourani at the podium welcoming guests and introducing Dr. Kamal Abouchedid and Professor Gianluca Parolin (Mar 2009)
Dr. Parolin then took the platform to give an overview of his book, which took five years in the making. Parolin explained how he found it a problem to translate the title into Arabic, as he had to consider what appropriate word he could he use for "citizenship", as different terms are used depending on the context. To explain the term further, he referred to Aristotle's work, where the term used then was "polity", the political nature of man being linked with his life in the nation-state. With the rise of the modern nation-state, what in the past was referred to as nationality is now replaced with the term citizenship.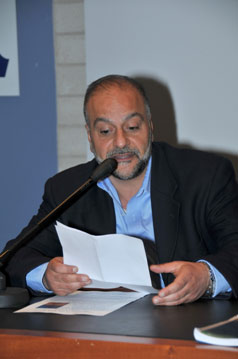 Dr. Kamal Abouchedid introducing the works of Professor Gianluca Parolin (Mar 2009)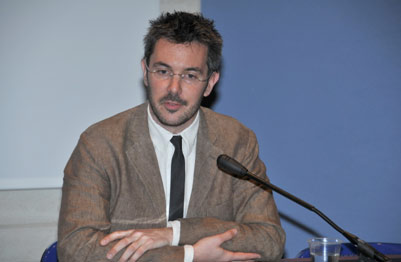 Professor Gianluca Parolin, author and lecturer, delivers his presentation of Citizenship in the Arab World: Kin, Religion and Nation State (Mar 2009)
Parolin stated that in order to understand citizenship in the Arabic speaking nations, he looked at the individual through three dimensions: Kin, Religion and Nation-State. He said that in the twelve Arabic speaking countries that he selected as case studies (Egypt, Iraq, Palestine, Jordan, Lebanon, Syria, Saudi Arabia, Gulf States, Yemen, Sudan, Libya, Morocco, Tunisia, and Algeria), the rights and duties of the individual were shaped by kin or his relationship with his family, while at the same time the individual was connected to whichever religious community he belonged to, as well as to the newly formed nation-state. At these three levels of membership the individual has no choice in becoming a member, because these memberships are created and formed at birth.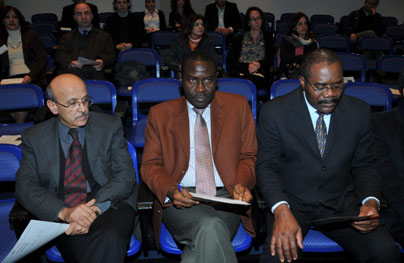 Dignitaries attending the lecture at NDU (from L-R) Dr. Assaad Eid, H.E. Hameed A. Opeloyeru and Mr. Anthony A. Bosah
(Mar 2009)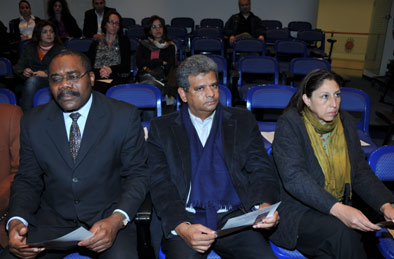 All attention at the Lecture (from L-R) Mr. Anthony A. Bosah and Mr. and Mrs. Jorge M. Baker (Mar 2009)
He stated that the case of Lebanon the nationality law remained fundamentally dependent on the Decision 15/S of 1925, which was taken under the French mandate, even if it was repeatedly amended. He also stated that in Arabic speaking countries "members of religious minorities endure limitations of citizenship rights" and that "even in a formally secular state like Lebanon (although based on communitarianism: al-ta¯'ifı¯yah), the political, social and demo¬graphic equilibrium is so delicate that religious-related aspects of na¬tionality and citizenship stir great political animosity."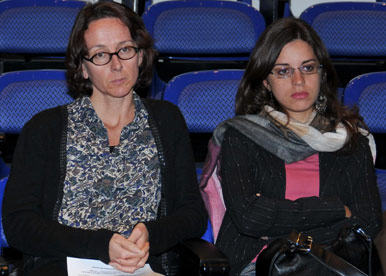 Italian visitors Dr. Deborah Scolart (left) and Ms. Fabrizia Agosta in attendance at the lecture (Mar 2009).
Dr. Parolin closed by saying that "several questions about the definition of nationality and citizenship in the Arab world are still open, due to major thorny issues of international law and regional politics."

The lecture was attended by H.E. Hameed A. Opeloyeru, Ambassador of Nigeria, Mr. Anthony A. Bosah, Head of Chancery at the Embassy of Nigeria, Mr. Jorge M. Baker, Counselor at the Embassy of Mexico, who was accompanied by his wife, the Vice-President for Research and Development at NDU Dr. Assaad Eid, two visiting colleagues of Dr. Parolin, Dr. Deborah Scolart and Ms. Fabrizia Agosta, the Director of LERC, Ms. Guita Hourani, NDU Professors, LERC staff and Friends of LERC.