Brazilian Professor visits LERC
Wednesday 23rd September 2009, LERC, NDU
Reported by Elie Nabhan
The Lebanese Emigration Research Center welcomed to its premises Professor Miriam Abduche Kaiuca, the Vice General Director of the School of Application at the Federal University of Rio de Janeiro (UFRJ) in Brazil. Professor Kaiuca was accompanied by her husband Mr. João Alfredo Navarro da Costa de Artagão, an economist, and Mr. Roberto Khatlab, LERC's Latin American Liaison Officer, who was instrumental in arranging the visit.
Professor Kaiuca is currently researching her PhD Thesis, at the UFRJ, that studies 9th and 12th century Arab mathematical philosophers and their contribution to the philosophical development of Western civilization, and scientific life. Mr. Khatlab is the coordinator of this research in Lebanon.
Professor Kaiuca donated to LERC a collection of original photos, documents and identity and family registration cards on behalf of her family and the Bedran and Ananias families, who are all Brazilians of Syrian and Lebanese descent currently living in Rio de Janeiro.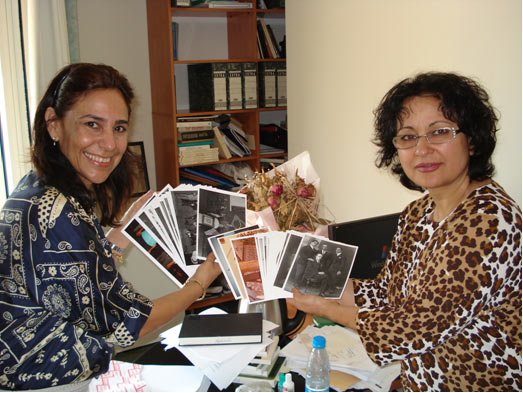 Professor Kaiuca (left) presenting Director Hourani with some original photos of Lebanese migrant families in Brazil (Sept 2009).
Professor Kaiuca also donated to LERC a book from Libania Nacif Xavier entitled Memórias da Tia Hilda: História de Una Família de Imigrantes Libaneses No Brasil written by Hilda Nascif of Rio de Janeiro.
LERC Director Ms Guita Hourani held a meeting with the Brazilian visitors during which she discussed methodology of collecting and writing family migration history. Professor Kaiuca promised to record the history of her own family and to continue to collect material on Lebanese migration for LERC.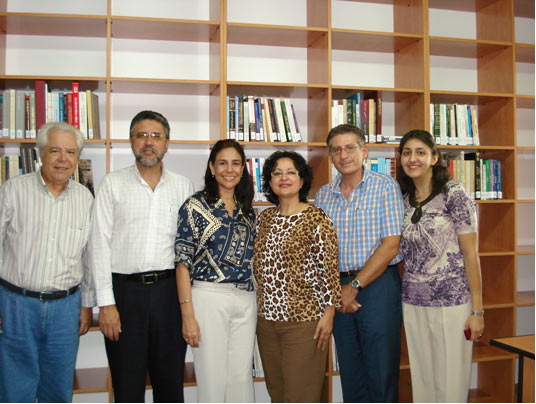 Brazilians at LERC with staff (from left to right): Mr. Artagão, Mr. Khatlab, Prof. Kaiuca, Dir. Hourani, Mr. Nabhan, and Ms. Abdul Khalek (Sept 2009).
The group were then shown around the Center and introduced to the Lebanese Electronic Archives Database by Ms. Basma Abdul Khalek. Ms. Abdul Khalek gave a thorough overview of LERC's Brazilian Collection, showing the visitors exactly how their photos, books and other material would be electronically documented for eternity.
Delighted with what they were shown, the group were then taken on a tour of the Lebanon and Migration Museum at NDU, by Elie Nabhan, where they were shown first- hand the original materials that LERC collects.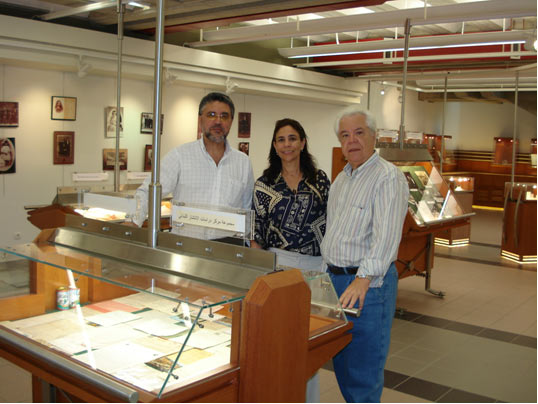 At the Museum: Professor Kaiuca (centre) flanked by her husband Mr. Artagão (right) ad Mr. Khatlab. (Sept 2009).